What is true love? When it really comes down to it, we're pretty flippant about how we use the word love. We love a new dress, hairstyle, sports team or job. We see something fabulous and tell our friends we love it. But what about the kind of true and abiding love that we're looking for in a serious relationship? In this article, we'll discuss some signs of true love, how to recognize it and how to nurture it into a long-lasting, loving relationship.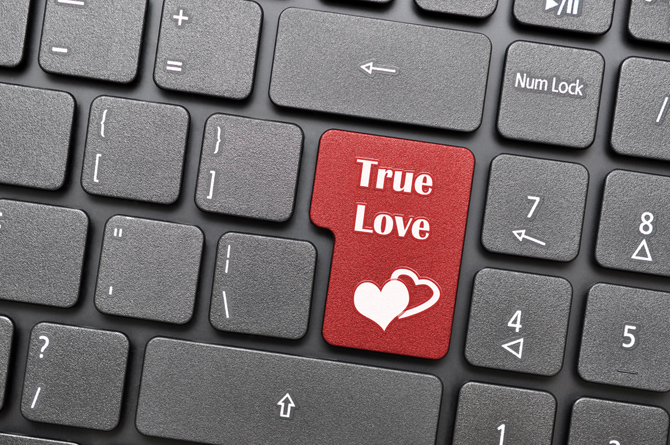 Signs of True Love
So when you've formed a relationship, how can you tell if it has the signs of true love? Here are some possible mile markers to look for in your relationship and how you personally feel about your significant other:
1. You Argue Constructively
When you get into an argument, are you more interested in resolving it and fixing the relationship than being right or winning the fight? When you're willing to put aside your personal pride and compromise instead of getting your way, it's a pretty good sign of true love. What is true love, after all, except for the willingness to set aside your differences for the common good because you can't stand being apart?
If you're fighting the wrong way, you may want to rethink things.
2. You Care For the Other's Needs
Are you putting his needs either at the same level as or ahead of your own? Is your partner doing the same for you, sacrificing their time or money to ensure that your needs and desires are met? A great sign of true love is when either of you are willing to give up what you want or need, to sacrifice, to make sure that your partner has everything they need and are taken care of. Whether it's a birthday surprise when everything else fell through or bringing you dinner when you're working late and can't get away, this is a big sign of true love.
My most powerful sex tricks and tips aren't on this site. If you want to access them and give your man back-arching, toe-curling, screaming orgasms that will keep him sexually obsessed with you, then you can learn these secret sex techniques in my private and discreet newsletter. You'll also learn the 5 dangerous mistakes that will ruin your sex life and relationship. Get it here.
Your relationship won't succeed if you take each other for granted. More on that here.
3. You Help Each Other Succeed
Are you deeply invested in his success and growth as a person and does he do the same for you? This means that you're willing to give you a weekend away so that he can go to a business conference or that he's willing to give up a couple evenings a week so that you can go back to school to finish your degree. When you have true love in a relationship, you're looking at the big picture and want them to grow as a person.
4. You Share His Happiness – And Pain
Do you feel actual emotional pain when he feels emotional pain? The author Robert Heinlein once said, "Love is that condition in which the happiness of another person is essential to your own." If what you're feeling is actual pain rather than empathy or sympathy for their problems, this is a really good sign of true love. But don't worry – because you're willing to sacrifice for each other's happiness, you'll be there to help your partner out of it.
5. You Compromise
There's a give and take involved in the relationship and you don't care as much about keeping score. Does it really matter if you've made dinner five times this month and he only made it twice? Not really. Unless you need help with your grocery budget – and if so, you should feel comfortable enough to ask – it doesn't really matter, as long as you're both fed. If, on the other hand, you're having to drop important things like sleep or required overtime and he's not willing to meet you part-way, you may want to sit down and have a serious discussion. He may not be aware of the problem.
Check out our relationship advice to learn how to compromise.
6. You Don't Play Games
Can you drop the games when it comes to something serious? A big sign of true love and that you're growing in the relationship is the ability to drop the games and deal with things seriously. Nobody can read minds, so drop the "I'm not going to tell you if you don't know" routine in favor of sitting down and having an adult conversation. If you're played games like this in past relationships and are willing to drop them in favor of fixing the problem and saving the relationship, you may have found your true love story.
7. You're Filled With Happiness
Being with them fills you with pure happiness. Sure, you roll your eyes when he comes up with the 15th bad pun of the day, but deep inside, you get a little grin when his eyes light up because you know his latest and greatest groaner makes him happy. Does your happiness bounce up when you see his name on your caller ID? That's an awesomely good sign of being in love that's true. More in this post.
8. You're Willing to Put a Lot of Effort into the Relationship
During the depths of the last recession, I was working an additional part-time job at a seasonal mall kiosk, along with my fiance and roommate. He knew that I loved to play guitar, but that I'd sold my two guitars to pay travel expenses to (unsuccessfully) keep my last relationship together. He spent most of a paycheck buying me an awesome guitar for the holidays, then went down to a sporting goods store for a large box to put it in to keep it as a surprise because we all drove home together. I have to admit, I was a bit confused as to why he was buying a bass boat.
Did it work? Absolutely – I was thrilled beyond words when we opened presents! Was it worth it? He says it was. You can get as much out of saying and showing your love as receiving it.
9. You Keep Your Promises to Each Other
This doesn't involve exact promises like, "You'll be here exactly 15 minutes after you get off work," because stuff happens like flat tires, bosses needing a minute at the end of the day or bad traffic. Nor does it include silly promises like, "You're going to call me pookie bear in public." We're looking at the long-term promises here, like "You're going to try harder to get along with my mom," or "We're going to make more quality time for each other."
10. You Start to Think of Your Future Plans in Terms of "We" Instead of "Me"
As you're picturing your future, are you thinking of what it will be like together, whether it's taking a semester overseas, moving across the country or setting up house? This sign of true love means that you're so happy together that you can't picture your future apart. Read this before you plan your wedding. Wondering if he feels the same? These signs indicate "Yes"!
11. You Work Through the Hard Times Instead of Giving up the Relationship
That's a really good sign that you've got true love and that it's worth fighting for. If you're not sure how to get there from where you're at, sit down and have one of those deep, serious, adult conversations and brainstorm what you both need to do to make it work. If he's being deployed overseas and the extent of his willingness to work together goes towards, "All the guys in my unit are breaking up or getting married, and I'm not ready to get married, so I'm breaking up with you," he doesn't really love you.
But some couples persevere through long distances and other difficult situations. Advice on that in this article.
12. You Regularly Trying to Look at Things from His Perspective
This is a great sign of true love because it means that you're willing to look beyond your own viewpoint because you want to make decisions that make him happy too. It's kind of like giving up your idea of a perfect birthday dinner for him at a vegan restaurant you like in favor of the steak place you know your red-meat-craving cowboy would love. Your vegetarian side might not have the best time, but you know that he'll be stoked at the thought of tucking into a pound of sirloin.
13. You're Having an Awesome Time Together
In fact, you don't care about a relationship schedule or time limit anymore. Have you been going out six months or six years when you decide to tie the knot? If it's real love, you'll get over your ego that says you need to be walking down the aisle in a pretty white dress within two years and will just enjoy going along for the ride instead. When it's true love, you're willing to jump in despite a few misgivings about how short your courtship was or stay by his side for the rest of time without taking it further.
14. You Feel More Content than You Ever Have Before – Even When times Are Hard
True love is about the long haul. If your current issues are making you unhappy, but you know it would be even worse without your lover beside you, you've got true love. Bad times will pass, and they're just not as bad with your lover beside you. All of these quotes apply to you during this time, and you don't question whether you're in love.
You don't need to have all these signs in your relationship to have true love, nor do you have to be limited to just these signs – there are many, many more. It doesn't necessarily take true love to enjoy a successful relationship, but many strong relationships are based on the sacrifice that true love makes us offer.
By paying attention for a sign of true love, you can determine whether your guy truly loves you or not. What is true love? When you're in a true love relationship for the first time, you grow as a person, learning to put another person's needs and wants before your own.
Watch This: Blow Job Tutorial Video
I put together this in-depth, step-by-step instructional video that will teach you how to make your man sexually addicted to you and only you. It contains a number of oral sex techniques that will give your man full-body, shaking orgasms. If you're interested in learning these techniques to keep your man addicted and deeply devoted to you as well as having a lot more fun in the bedroom, then you may want to check out the video. You can watch it by clicking here.