Each of these 69 dirty questions are going to quickly heat up your relationship and make sex a lot more fun for both you and your man. More importantly, these dirty sex questions are going to give you the ability to quickly explore any fantasy or idea or thought you might want to try out with your man…and who doesn't want that?
If you want to skip straight to the 69 dirty questions below click here. But if you first want to learn about the different types of freaky dirty questions you should be asking your man, and why you should be asking them, keeping reading…
While the first three chapters of the Dirty Talking Guide were about talking dirty to build sexual tension, have more satisfying sex and keep your man thinking about you, this chapter is different . You're going to learn how to ask your man dirty, sexual questions so that you can find out what he truly wants and what really turns him on, along with subtly letting him know what your kinks and fetishes are.
By the way, if you want to learn the actual words and lines to say to your man, then Chapter 1 has 73 dirty talk phrases, Chapter 2 has 64 and Chapter 3 has 91, so you'll never run out of things to say to him. If you want to learn how to sext your man, then you'll find instructions and 43 sexting examples in Chapter 5. And for phone sex, use the scripts from Chapter 6.
Finding Out His Desires
By far the biggest benefit to these dirty questions below is that you'll get to quickly discover your man's wants, needs and desires. Rather than waiting months or even years to find out what truly turns your man on and what his kinks are, you can use these sexy dirty questions to find out a whole lot quicker.
If you want to give your lover back-arching, toe-curling, screaming orgasms that will keep them sexually obsessed with you, then you can learn these sex techniques in my private and discreet newsletter. You'll also learn the 5 dangerous mistakes that will ruin your sex life and relationship. Get it here.
Perfect if great sex is important to you…and I'm guessing that if you're here on the Bad Girls Bible now, great sex is critical to you.
Subtly Let Him Know What Turns You On
We all know that if you ask someone what they did for their vacation, they will inevitably ask you the same question right back. This is the simple law of reciprocation.
So if you ask your man what his favorite sex position is, then it's highly likely that he's going to ask you the same question right back. Best of all, he won't notice what you're doing! He'll think it's his idea to ask you!
So if you ever wanted to let your man know that you like rougher sex you just need to ask him questions like these ones:
Do you like it when I pull your hair during sex?
Do you like me talking dirty during sex?
Do you like it when I'm aggressive with you in bed?
As you ask him these sexual questions and discuss it with him, you'll notice that he'll also ask similar sexual questions back to you. This is perfect for letting him know what you enjoy in an "under-the-radar," subtle kind of way.
Speaking of rough sex, here's a great list of rough sex ideas you should try with your man.
The Right Place & Right Time
There is a right place and right time to ask your man dirty sexual questions like the ones below. If you are on a first date, then it's probably best to stick with more flirty questions and keep it light (get more tips on flirting with your man from the Flirting Guide here).
But as you get to know your man more and more, then definitely start asking him more intense, explicit and dirty questions.
You're also going to find that it's much easier to ask your man very dirty sexual questions when you're both naked and lying in bed. It also gets easier after a glass or two of wine.
Take The Quiz: Do I Give Good (or BAD) Blow Jobs?
Click here to take our quick (and shockingly accurate) "Blow Job Skills" Quiz right now and discover if he truly enjoys your blow jobs…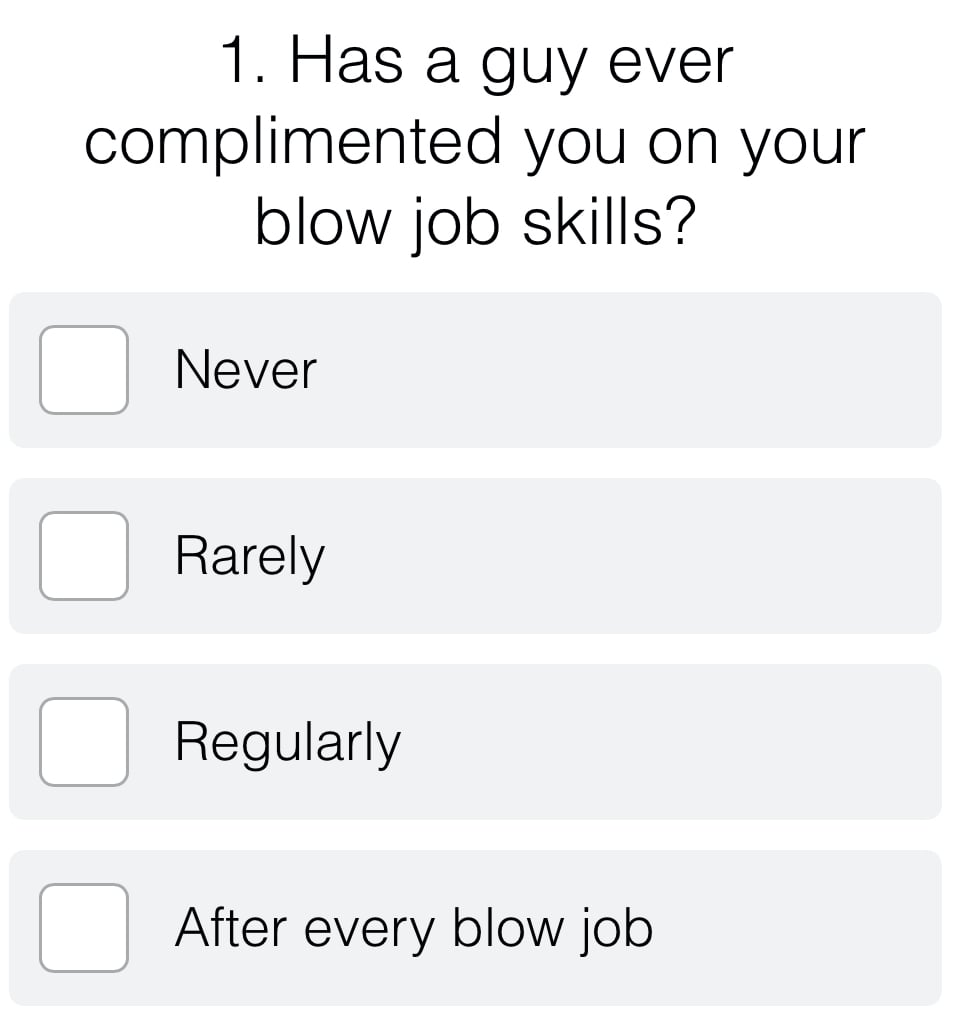 Now that we've covered the ground rules, here's 69 filthy dirty questions to ask your man:
Do you like it when I kiss you? – Kissing tips here.
What color underwear are you wearing? (Make sure to give him a cheeky smile when asking him this!)
What kinds of clothes do you like me to wear?
Do you like being on top?
What's the naughtiest, dirtiest thing that you've ever done with a girl?
If you could only have sex in one position for the rest of your life, what would it be? – Learn over 100 sex positions in this guide.
If you could only choose between getting blowjobs for the rest of your life or having sex, what would you choose? – Check out the in-depth Blow Job Guide here.
What would you say if I asked you to go down on me right now?
Do you prefer my left boob or my right boob?
Are you a tits or ass guy?
What is your least favorite sex position?
What's your record for the number of times you've masturbated in a single day? – Check out 10 incredible masturbation techniques here.
Have you ever had phone sex? – Check out these powerful phone sex tips.
Have you ever tried BDSM or Dominance/Submission (D/S) play? Interested in BDSM?… – Start here.
Do you own any sex toys?
What's the most sensitive part of your body?
What is one fantasy that you always wanted to try?
When's the last time you watched porn?
When's the last time you masturbated? – More masturbation tips here.
If you could be 4 inches taller or have an extra 4 inches in length and girth to your penis, what would you choose?
Have you ever had sex outside? – Read our guide on having perfect outdoors sex.
Has a girl ever used a strapon on you? – Here's some strap on tips, if you're keen.
If we were in a sex shop right now, what three things would you buy for me?
Are you an oral sex guy, anal sex guy or regular sex guy? I you only had to choose one for the rest of your life, what would it be? – Read: Learn how to have enjoyable, pain-free anal sex.
What age were you the first time you jacked off?
Have your parents ever caught you jerking off?
Have you ever kissed a guy?
Have you ever given a facial at the end of oral sex?
Shaved or landing strip, which do you prefer?
If I could only work as either a pornstar or stripper, which would you prefer me to do?
Would you prefer me to spit or swallow? – Discover the secret to swallowing cum and enjoying it.
Do you have any fantasies that embarrass you?
Have you ever had sex with someone that couldn't speak English?
Have you ever had sex with more than one person at the same time?
What's the craziest sexual thing you've ever done?
Have you ever tried anilingus? – Discover the pleasures of anilingus here.
How many people have you kissed in your life?
Have you ever been with a girl bigger than you?
When is the last time you've been to a strip club?
Have you ever tried skinny dipping?
What age were you when you lost your virginity?
Have you ever wanted to dominate me in the bedroom?
What's the roughest sex you've ever had?
Tell me about the kinkiest sex you've ever had? – Check out these kinky sex ideas.
Have you ever had a threesome? Have you ever wanted to try one? – Threesome tips here.
Have you ever fantasized about being a sex slave? What about me being your sex slave?
Would you find it hot to see me kiss a girl?
Do you want to watch porn with me?
Would you find it hot if I made you wear a butt plug?
What's the quickest you've ever blown your load?
Do you want to watch me masturbate?
Can I watch you masturbate?
Can I sit on your face?
Have you ever peed on someone?
Have you ever cried during sex?
Would you ever cheat on someone if the sex was bad?
When's the last time you masturbated about me?
Have you ever wanted to try something with me, but were afraid to ask?
If I asked you to slap me, what would you say?
Have you ever had a massage with a happy ending? – Learn how to give a great happy ending massage here.
What's worse, foreplay that lasts forever or no foreplay at all? – Read our detailed, in-depth foreplay guide.
Do you think tattoos make girls look more or less sexy?
Have you ever masturbated while on the phone or while texting someone?
Have you ever had a one stand? How many?
Do you like it when I talk dirty? – Check out Chapter 1 of the Dirty Talking Guide here.
What's the sexiest thing a woman has ever done for you?
Watch This: Oral Sex Tutorial Video
I put together this in-depth, step-by-step instructional video that will teach you how to make your lover sexually addicted to you and only you. It contains a number of oral sex techniques that will give them full-body, shaking orgasms. If you're interested in learning these techniques to keep your lover addicted and deeply devoted to you as well as having a lot more fun in the bedroom, then you may want to check out the video. You can watch it by clicking here.