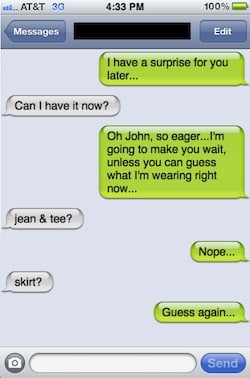 In this article on dirty text messages, I am going to teach you:
3 Dirty Text Message To Send That Will Keep Him Thinking About You.
2 Sexy Text Messages To Make Him Horny.
4 Dirty Text Messages That Will Build Sexual Tension.
The 3 Keys To Making Dirty Text Messaging Work.
2 Naughty Text Message To Tease And Titillate Him With.
Sending dirty text messages or these dirty talk examples is a great way to talk dirty to your man when you are not around. So what kinds of dirty SMS text messages should you send your man to keep him thinking about you?
Dirty Text Messages To Keep Him Thinking About You
I personally find that the most powerful use of dirty messages is to keep him thinking about. Here are some examples that you can send him:
I had this crazy dream about you last night x
Just saw something that made me think of you. x
I was thinking about you last night as I was falling asleep.
All three of these text messages are designed so that they are not very direct, just like some of the dirty talking phrases I've written about in the past. You'll also notice that they are hardly sexual at all. The purpose is to get him thinking and wondering about you, while also telling him something that he would really want to hear. One very important point to keep in mind when sending your man a dirty text message is that it's often better to send him a message that is short and isn't asking for a reply.  This is subtle sign of confidence to your man.
If you want to give your man back-arching, toe-curling, screaming orgasms that will keep him sexually obsessed with you, then you can learn these sex techniques in my private and discreet newsletter. You'll also learn the 5 dangerous mistakes that will ruin your sex life and relationship. Get it here.
Dirty Text Messages To Build Sexual Tension
Text messages are the perfect way to build sexual tension with your man. The texts you send can be quite sexual, but the fact that you and your man are quite far apart means that there is a barrier to anything sexual from actually happening (barriers are what build sexual tension). Try sending these messages to your man. You may find that some of them are a little wild and 'out there' while others are a little quieter:
I'm going to blow your mind later!
The great thing about this one, is that it could mean a lot of things. It could mean that you are going to give him an awesome blowjob…or it could mean that you are going to show him something cool. By being indirect and not clear like this, you will also get him thinking about you, which is exactly what you want!
I don't know what it is, but I really need to see you right now. x
I really miss having you inside me. I wish we were in bed right now.
If I didn't have to go to college/work today I would fuck you really hard!
These messages will build a lot of anticipation with your man. So when he finally does get a chance to be alone with you, he will be pretty much panting like a dog. You will find lot of other great ways to build sexual tension by talking dirty on the main dirty talking page.
Dirty Text Messages To Arouse Him
Keeping your man thinking about you and building sexual tension are 2 of the more subtle ways of sending dirty text messages to your man. A more direct way is sending him a message simply to arouse him. Try these for example:
I want you on top of me now.
I have been reading some tips online that I want to try on you. I think you'll like them. x
You will find that it's easier to send your man messages like these when you have been seeing him for a while first, otherwise, it may seem as if you are coming on a little strong!
Dirty Text Messages To Tease Him
You need to be careful when sending your man a message to tease him. It's important that you are not overly mean to him when you send them in case he gets the wrong idea. Here are some good examples of what you should consider sending him to tease him:
How come I'm always horny when you're not around. Grrr! x
If you were here right now, I would give you the blowjob of your life!
3 Dirty Text Message Tips
1) Just because the title of the article is 'Dirty Text Messages', it doesn't mean that you can't send your man these types of messages as an email or private facebook chat or IM.
2) You may be eager to start sending your man all kinds of dirty text messages, but my advice is to first test the waters with some tame messages to see if he's into it. If it's clear that he is, then you can proceed to send raunchier messages. If you start off by sending him a message that's really out there, then you risk him getting weirded out by it.
3) You will notice that there is a lot of overlap between sending messages for turning your man on, building sexual tension, keeping him thinking about you and for teasing him. Don't worry too much about this. Just keep in mind the 4 main reasons for sending your man dirty text messages so that you always write the message that fits what you want to achieve best.
If you enjoyed learning these dirty text messages, but want to learn my most powerful dirty talking tips to build sexual tension, turn him on and keep him attracted to you, then you will probably find the advice I give in the dirty talking tutorial video to be incredibly helpful. Enjoy!
Watch This: Blow Job Tutorial Video
I put together this in-depth, step-by-step instructional video that will teach you how to make your man sexually addicted to you and only you. It contains a number of oral sex techniques that will give your man full-body, shaking orgasms. If you're interested in learning these techniques to keep your man addicted and deeply devoted to you as well as having a lot more fun in the bedroom, then you may want to check out the video. You can watch it by clicking here.