This discreet newsletter will teach you how to make him cum hard, give freaky oral sex & make him scream your name in bed. Click here to get it.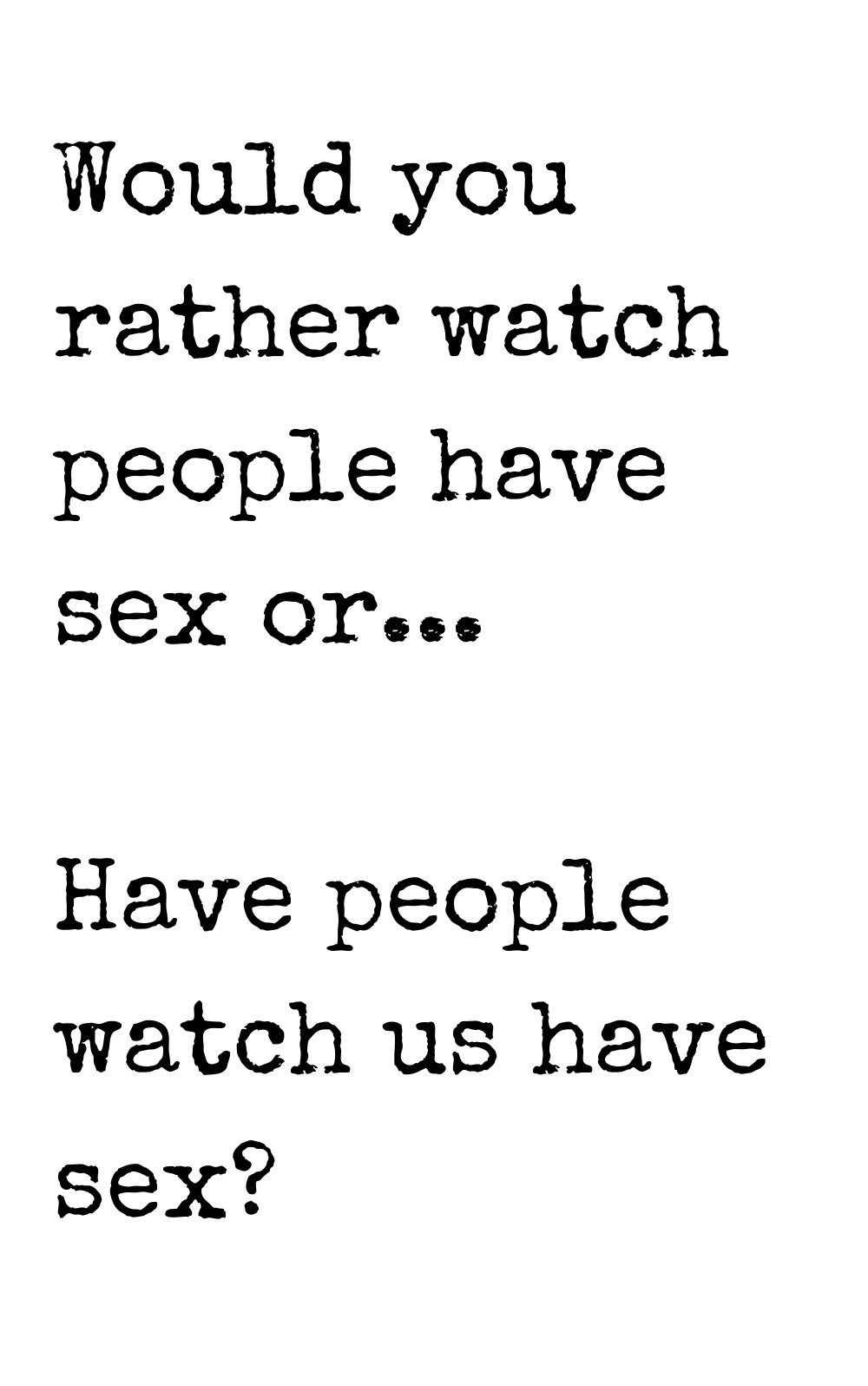 Sometimes your relationship and sex life can become boring and routine. You can easily escape the boredom by playing a game — the "dirty" version of the game, "Would You Rather."
"Would You Rather" is a game where you ask your partner questions that always have two possible answers. Every question has the basic format of "Would you rather do this or do that?"
Side note: If you are currently struggling to orgasm during sex or masturbation, then you may want to learn about the Easy Orgasm Solution. It begins by teaching you the techniques to orgasm easily and consistently. Then you'll learn how to have multiple vaginal and full body orgasms during sex and masturbation. You can find out more here.
The questions typically lead to conversations and reveal a lot about the person answering. And that's the fun of the game. You can ask any type of question in the Would You Rather game, including sexual, or dirty, questions. dirty "would you rather"questions help add some excitement to your sex life.
Side note: You may also want to ask your partner these 206 questions to get to know them better and create a stronger connection.
Here are 10 dirty "would you rather" questions to ask your man and why they work:
1. Would you rather choose to never have me hug you again or never kiss you again?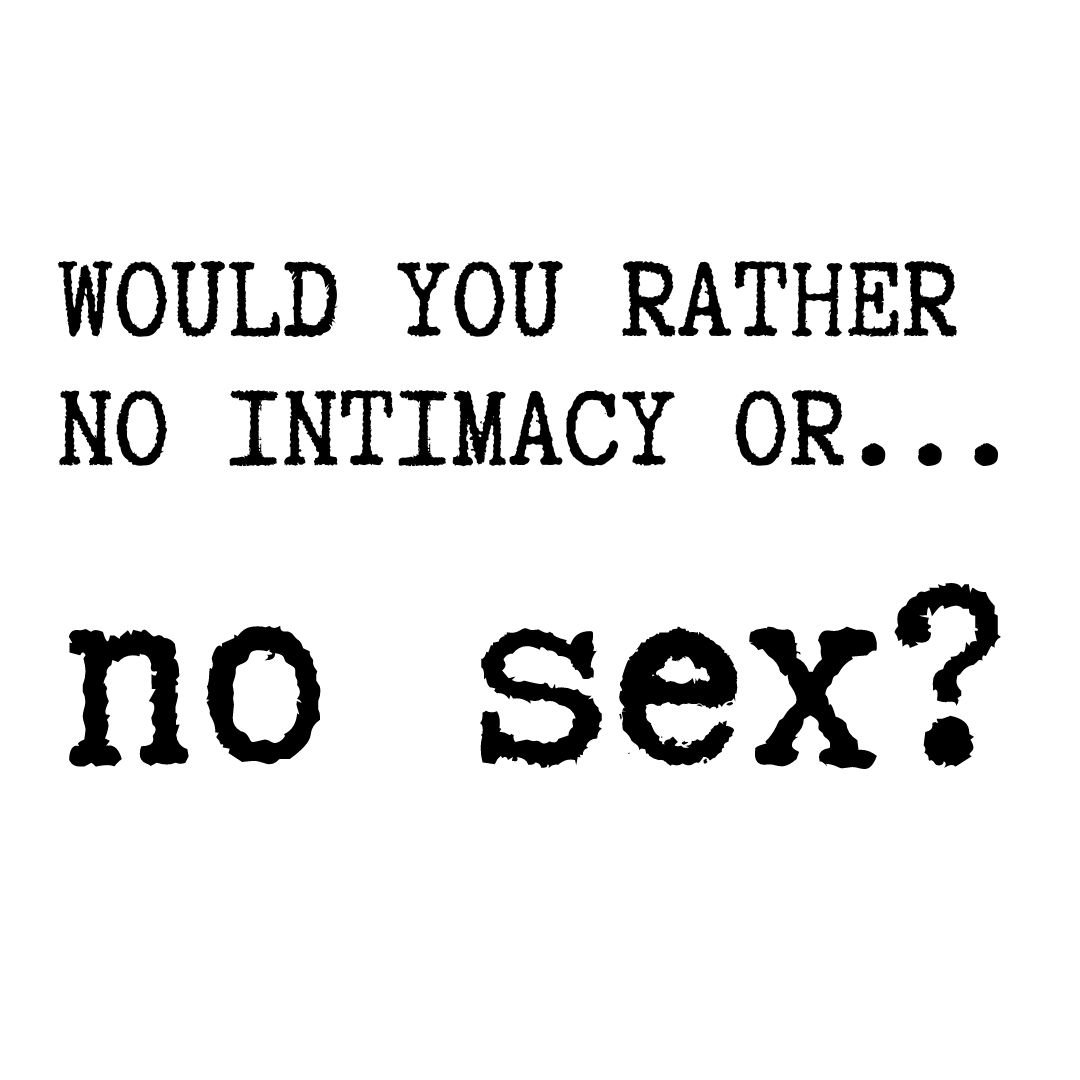 Both hugs and kisses are great ways to show emotion, and this dirty would you rather question lets you know which your guy prefers.
A hug lets your guy know you're there for him and that you love him. A hug allows you two a great way to connect with each other. If he's had a stressful day and needs to decompress and calm himself, a nice long hugging session with you can provide that. A good hug can make your guy feel all warm and fuzzy and that you two belong together.
If you want to give your man back-arching, toe-curling, screaming orgasms that will keep him sexually addicted to you, then you'll find them in my private and discreet newsletter. You'll also learn the 5 dangerous & "dumb" sex mistakes that turn him off and how to avoid them. Get it here.
A kiss is often more sexual than a hug and is may be a prelude to sex. Kissing is also a way for you and your man to bond and relieve stress. A good kiss should last for at least 15 seconds. If your guy chooses the kiss over the hug, he probably wants to kiss at least once every day. Kissing often gets neglected when couples have been together a while, so if your man chose kissing, he wants to bring back the romance.
Check out this video guide to brush up on your kissing skills.
2. Would you rather have sex with the lights on or off?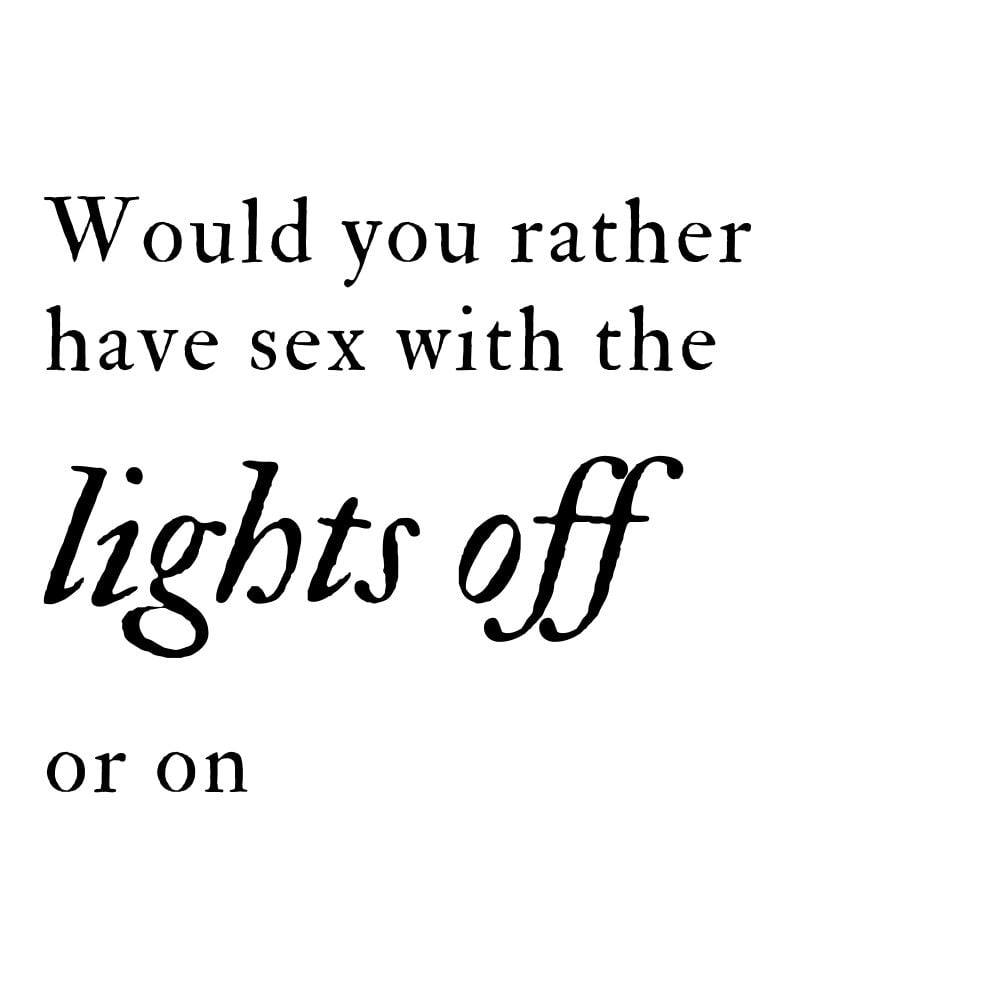 Your guy is probably going to answer "with the lights on". But go ahead and ask this dirty would you rather question anyway. Maybe you've been having sex with the lights off, and this question could lead to changing that behavior.
Men enjoy the visual experience when having sex. If your man answered he wants to have sex with the lights on, he wants to see your body. He won't focus on any imperfections you might have as you might. He'll be turned on looking at you and watching what you're doing to each other. And he'll love nothing more than seeing your pleasure while you have sex.
Sex with the lights on doesn't have to mean a floodlight aimed on you. You can dim the lights or use candles or even drape fabric over your lamp. Check out this guide for keeping confidence while having sex.
3. Would you rather have sex in the morning or at night?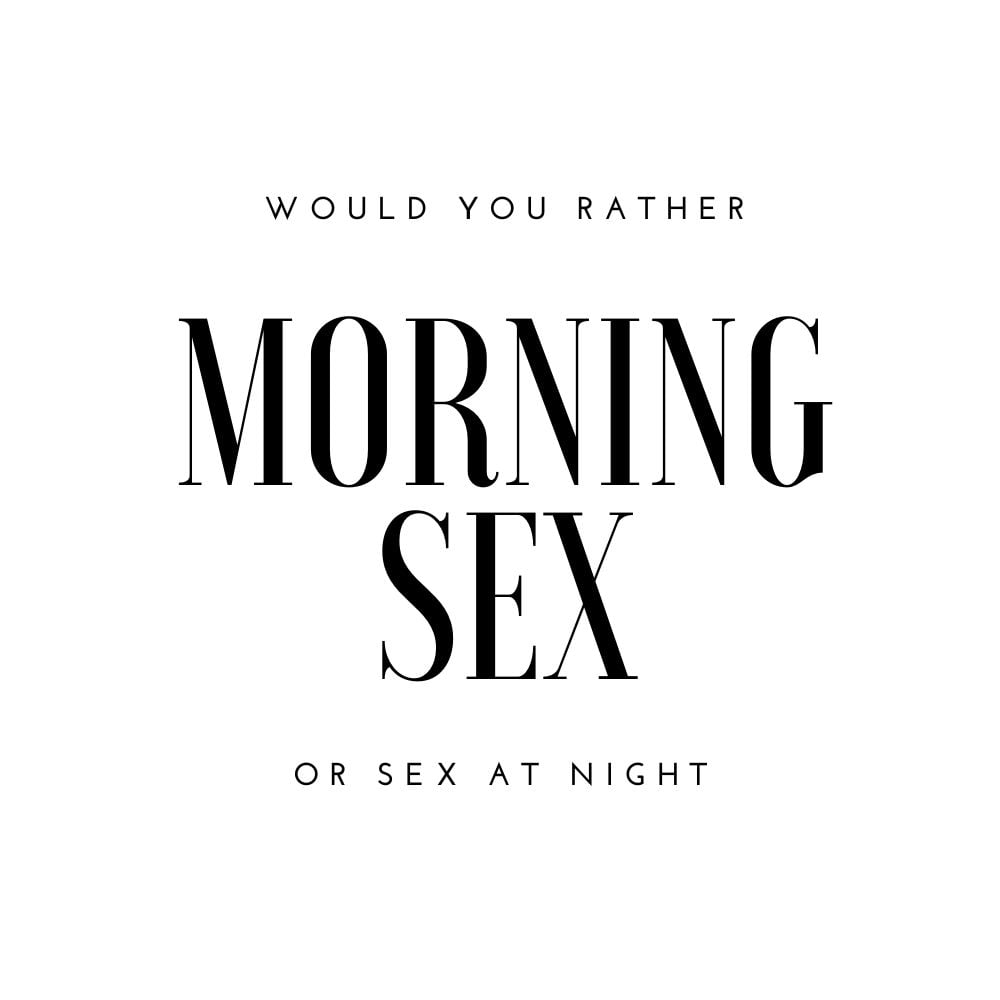 Nighttime might be the more traditional time to have sex, especially after you've had a great date. But give a man the choice in this dirty question, and he might pick the morning.
Guys are often horny in the morning. Testosterone levels peak after men have had a good night's sleep, and testosterone is the hormone responsible for sex. Plus, blood circulation to the penis happens during the night, which is the reason your man wakes up with an erection.
You might not feel like having sex in the morning if you're still groggy and feeling decidedly unsexy. Go ahead and take a few minutes in the bathroom to get ready, and then let him drive the action. Sleeping naked might help get both of you in the mood, too! Morning sex is a good time for the spooning position if you're still tired. More on that here.
4. Would you rather be on top or on the bottom?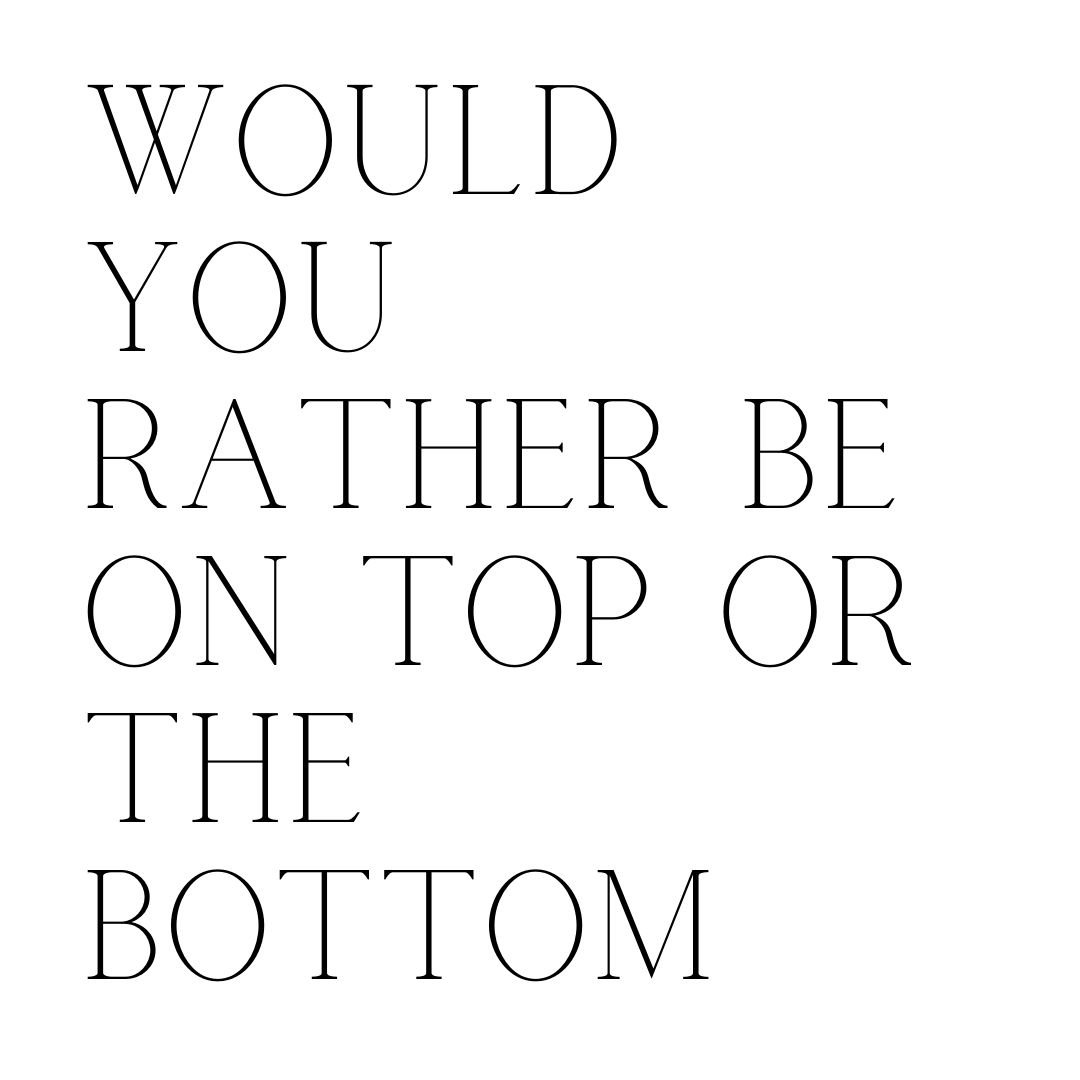 This is a good dirty "would you rather" question to ask to find out what his fave sex positions are.
If he chose top, here are some positions he might love to try with you:
Missionary: Men like this position because they are in control.
Doggy style: Men are in control in this position, too. And doggy style lets him go deeper than he can with missionary position.
Spooning: Spooning is a good position when you are still tired from sleep and he's ready to go!
If he chose bottom, here are some fun positions to try:
Cowgirl: You're on top and riding him cowgirl style. This is a great position to use if he said he likes the lights on.
Reverse cowgirl: You get to be in control, which is probably what he wants if chose bottom, but he gets the view he'd get with doggy style.
Sitting in a chair: He sits in the chair, and you straddle him. You're in control, but he gets to use his hands any way he likes.
This guide offers over a dozen positions where you're on top!
5. Would you rather have sex only in the bedroom or only anywhere else besides the bedroom?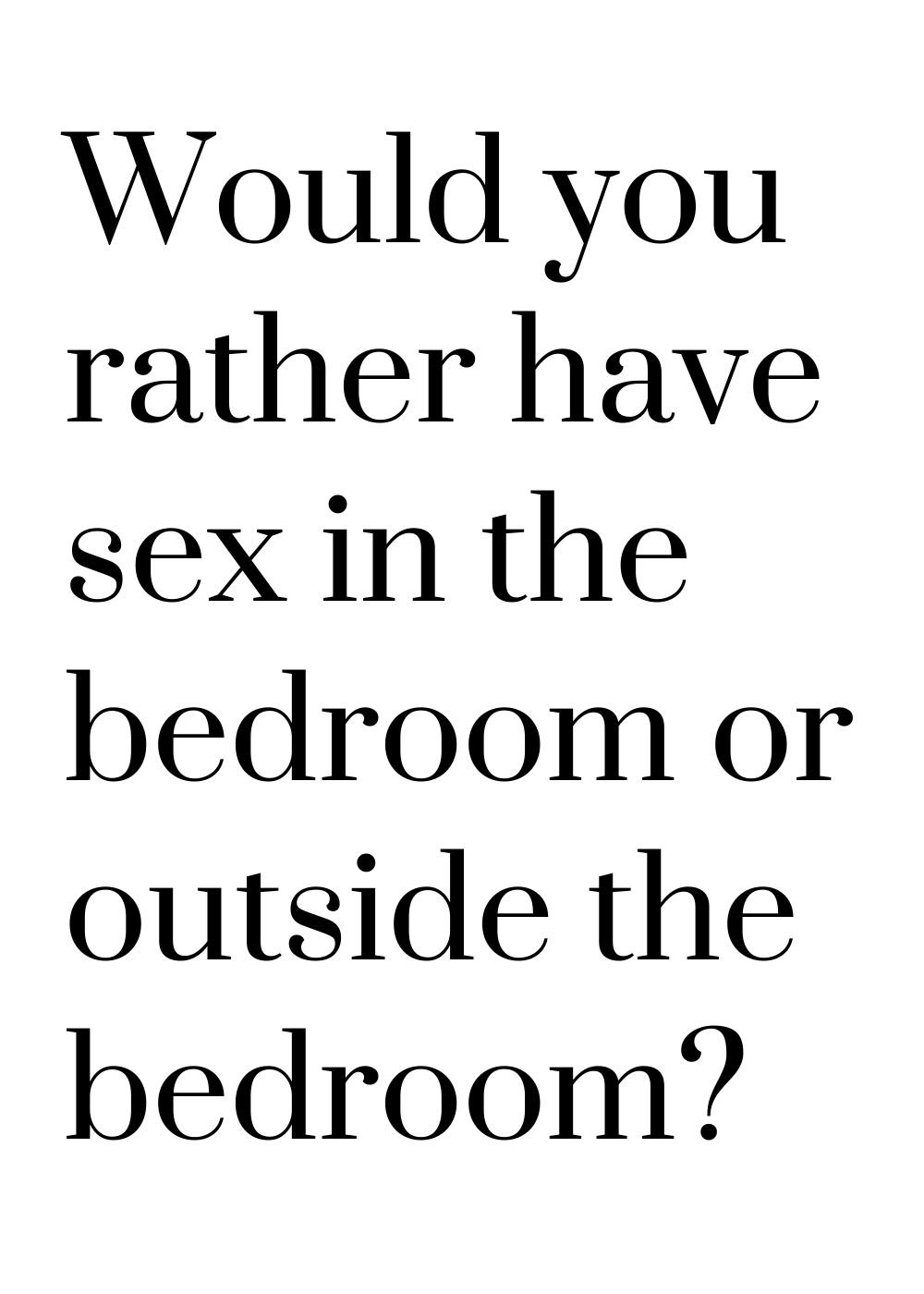 It's understandable if he chooses the bedroom in this dirty question. After all, it's probably the place where people have sex most often. Bedrooms are comfortable and convenient, but that can lead to boring, routine sex. Here's some ways to spice up the bedroom:
Get good lighting. Besides putting out candles, you can get lamps that give the room sexy, romantic lighting, or you can get dimmer switches for your existing lighting.
Make the bed sexy: Use silk sheets or soft cotton ones. You can use other textures, such as velvet pillows (and lots of them).
Play music. Make a playlist of sexy tunes to listen to while lovemaking.
If he chooses anywhere else, he's up for some adventure. Get ready to have sex in any number of places:
The shower
The car — check out our tips in this post
The backyard
A hotel
On the roof
The living room couch
On top of the dryer
The kitchen counter
The stairs
A bathroom at a party or event
The beach
A park
6. Would you rather have romantic sex or kinky sex?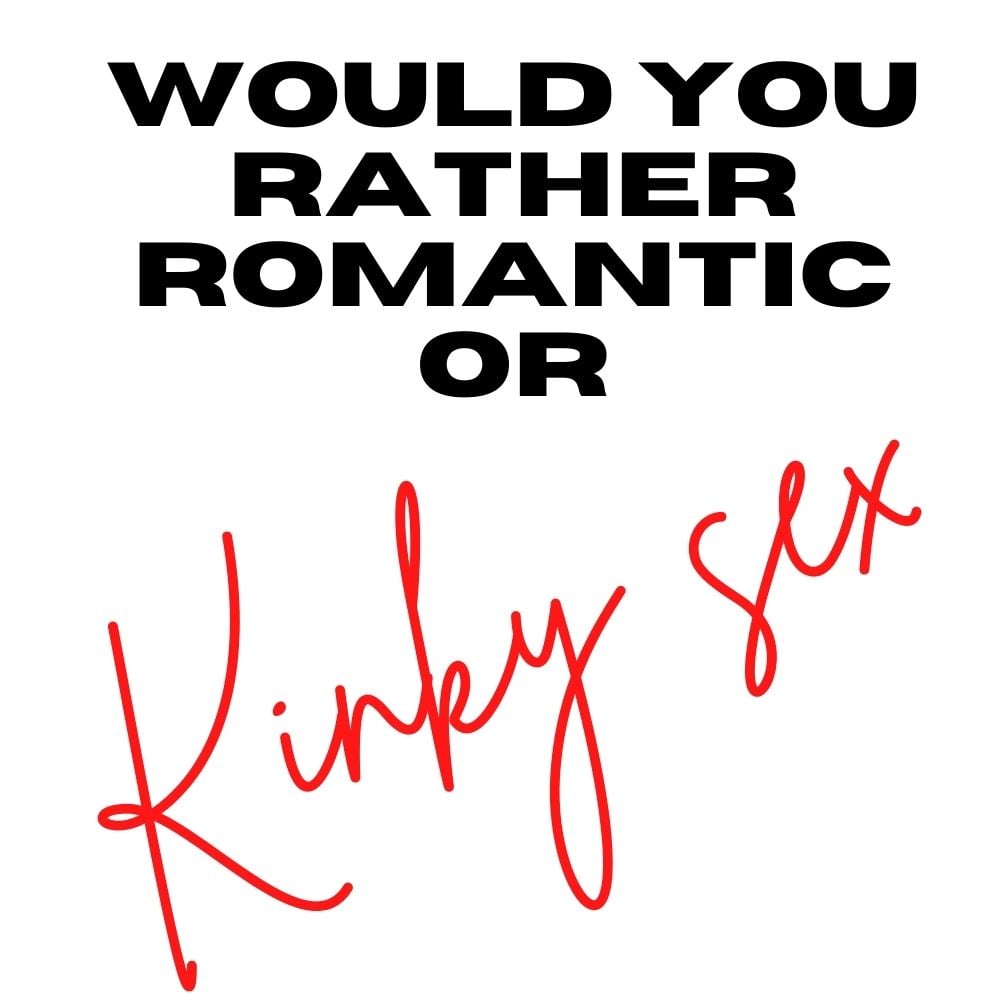 Whichever he chooses in this dirty "would you rather" question can turn out to be hot for both of you.
If your guy's a romantic, here are ways to have romantic sex:
Bring out the candles, wine and the slow music.
Look into his eyes and tell him how much you love him and how sexy you find him.
Give him a slow massage with massage oil.
Have sex in a position where you can face each other.
Cuddle afterward – here are 10 cuddling positions you've got to try.
If your guy chooses kinky sex, now's the time to pull out the sex toys. Try a his-and-her vibrator, use some handcuffs, paint each other with edible body paint or play an X-rated board game like the ones in this post.
7. Would you rather blindfold me or have me blindfold you?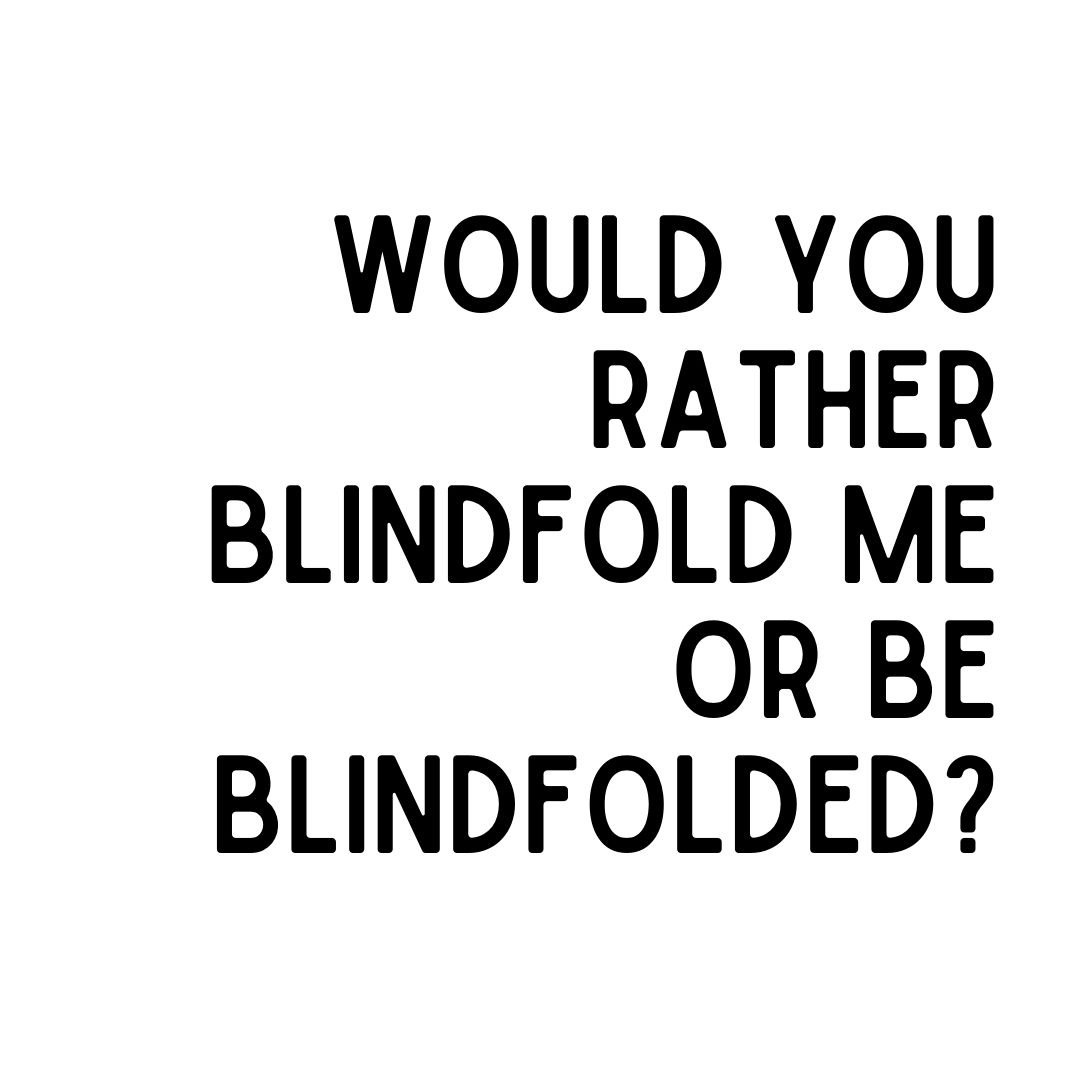 This dirty question is about control. If he wants to blindfold you, he wants to be in control. When you wear the blindfold, he's free to have fun with your body without you knowing what to expect. If this is something you want to try, we've got the lowdown on light bondage!
If he wants to be blindfolded, he wants you to dominate him, while he acts as the submissive one. Give him oral sex this way. The difference of the blindfold makes it all the more exciting for him. Check out these femdom ideas, too!
8. Would your rather watch people having sex in front of you or have people watch you having sex?
This dirty question lets you know whether your man is more of a voyeur or an exhibitionist. Voyeurs like to watch people having sex without the people knowing. Exhibitionists like to expose themselves to others.
You can indulge your man's voyeuristic tendency by undressing in front of him, masturbating in front of him or watching an Internet live webcam.
Indulge his exhibitionist fantasy by watching him undress and masturbate.
9. Would you rather only have anal sex or only oral sex for the rest of our lives?
If your guy chooses anal sex, it could be a sign that he likes to be in control. Anal sex might feel tighter to him, providing him with more friction. He might have picked it because it's something new for him, and it's thrilling to him to think of you making yourself vulnerable to him. Read this post before trying anal for the first time.
If he chose oral sex, well, were you surprised? It's no secret that men love blowjobs. They get to relax and just feel the sensation. Your man gets to watch while you pleasure him. And the stimulation from your tongue is not something he can get with intercourse or anal sex.
10. Would you rather have a threesome with me and another woman or me and another man?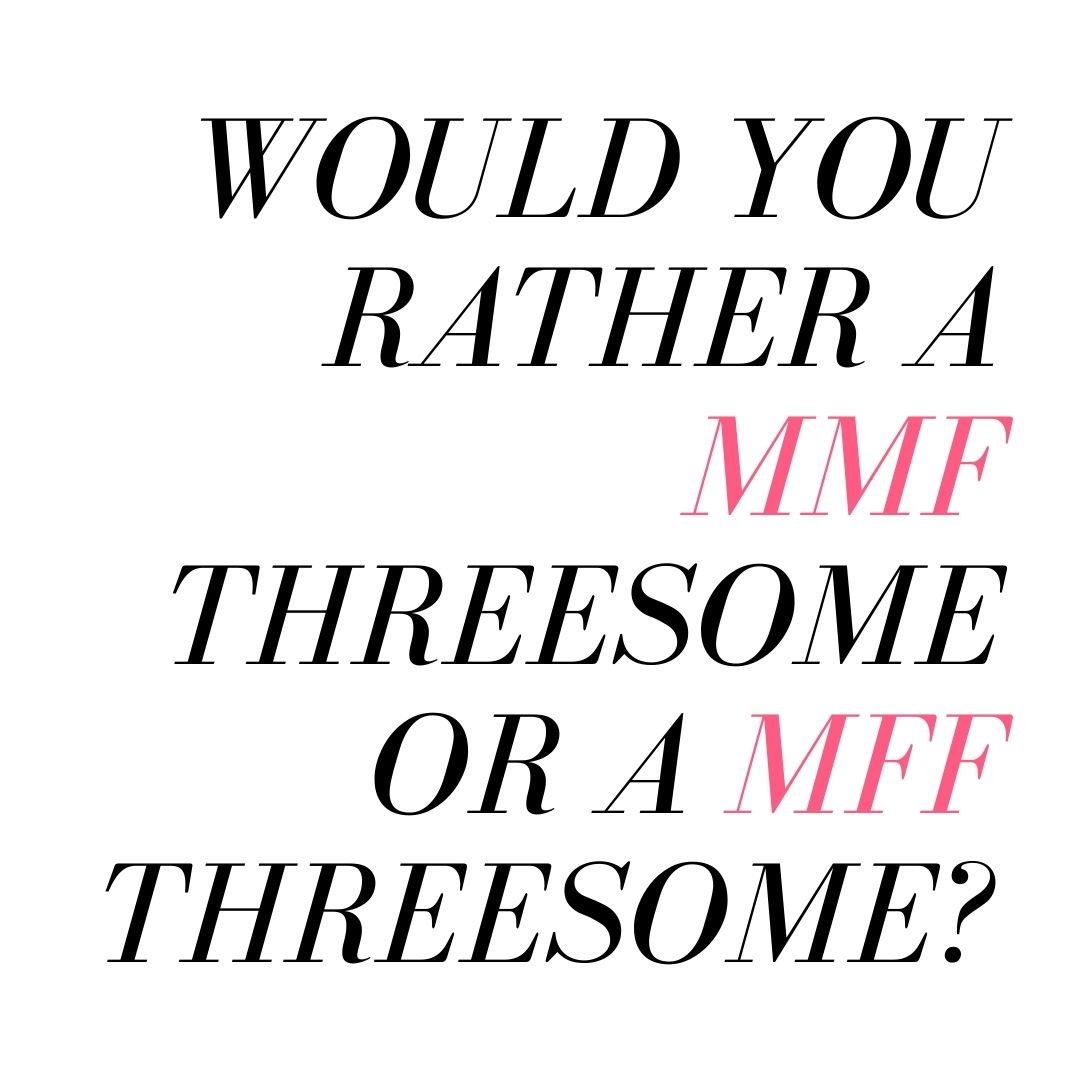 If he chooses a threesome with another woman, he might enjoy the extra attention he's getting by having sex with two women at once, and he might enjoy watching you and another woman pleasuring each other.
If he chooses a threesome with you and another man, he might enjoy watching you with another man, or he might be curious about being with another man while you watch.
Side note: These threesome positions (with illustrations) will make your threesome incredibly intense.
Conclusion
The great thing about playing games is the simplicity and fun of them but also how powerful they are in enhancing your relationship.
When playing the would you rather game, start with tame questions, building up to the more dirty stuff. You'll learn some new things about your guy, while having a fun time in the process.
This Woman Finally Learned How To Orgasm Easily During Sex. At 42 Years Old. Here's How...
I want to tell you about my friend Karen.
Karen came to me one day. She was hysterical.
She told me that her marriage was falling apart because she and her husband didn't have satisfying sex.
Every time they were intimate, Karen was faking her orgasms. It turns out she couldn't orgasm during sex.
In fact...
She never had an orgasm in her entire life. Not one!
This left her feeling embarrassed and ashamed. And...
She completely hid this from her husband. Thankfully...
It turns out that there is a way for any woman to orgasm. Easily. And have multiple vaginal and full body orgasms during sex and masturbation.
I shared the process with Karen.
After she followed the simple process, she could barely come to terms with how...
Quickly and dramatically her sex life changed.
We met up a few months later and...
She would not stop talking about it,
"I thought I was one of those women who couldn't orgasm. I used to think I was 'broken' and 'unfixable.' This saved my sex life, and that saved my marriage."
Even if you currently struggle to orgasm during sex or when masturbating, this process will also work for you.
And best of all, you don't need to do anything weird or uncomfortable to start having the best orgasms and sex of your life.