Whether you're having sex with a partner or opting to get off by yourself, having a healthy sex life is good for more than orgasms. Sex in any form can help reduce feelings of stress or anxiety, increase your feelings of intimacy, boost your immune system, and help make sure you sleep better at night. Essentially, as long as you're enjoying positive sexual experiences (where consent and mutual pleasure are non-negotiable), you're doing your physical and mental health a favour. 
Positive sexual experiences also mean being comfortable embracing your kinkier desires. Sexuality doesn't exist on a binary scale, and even if what turns you on doesn't seem particularly conventional, there's no rule book that says those turn-ons can't be a part of your sexual repertoire. 
You might also be surprised to learn that some of your kinks and fetishes aren't nearly as uncommon as you may have been led to believe. 
For a closer look at some of our most intimate desires, we surveyed nearly 1,000 gay, lesbian, bisexual, and straight men and women between the ages of 19 and 80 about their kinks and fetishes. Come along with us as we explore who's embracing their kinkier side, which bedroom activities have the kinkiest reputation, and how many people feel comfortable communicating these desires to their partners. 
Sexual Proclivity, by Orientation 
What classifies as a kinky idea or a fetish can be different for almost everyone, but a majority of people (69%) described themselves as either a little or somewhat kinky when it comes to their sexual exploits. Sixteen per cent of all people embraced their nontypical desires and described themselves as very or extremely kinky, though percentages were typically higher among people who identified as bisexual.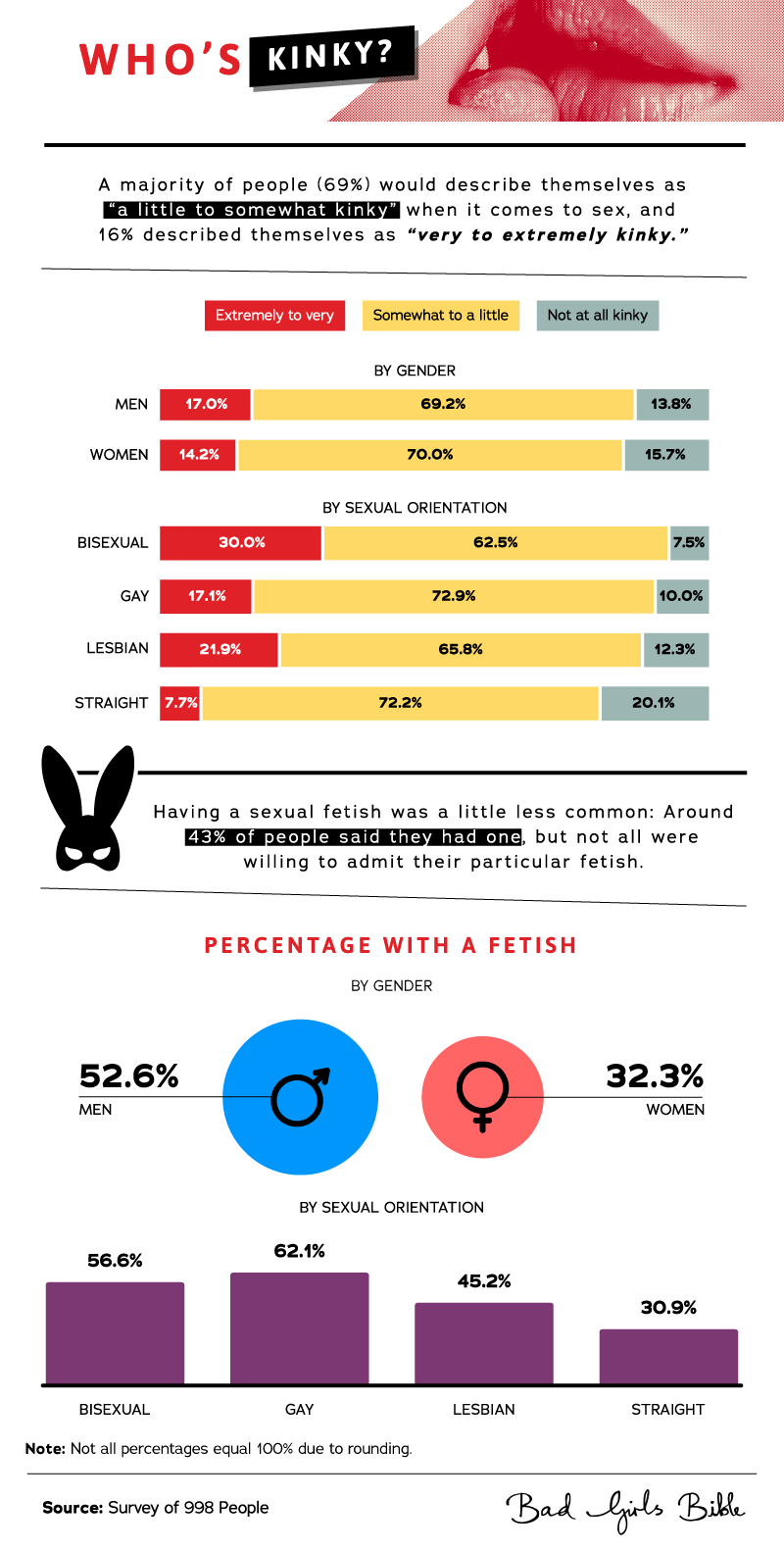 Compared to those classifying themselves as straight, bisexual, gay and lesbian other respondents were much more likely to identify as extremely to very kinky, including 30% of bisexuals, 22% of lesbians, and 17% of those identifying as gay. 
Overall, slightly fewer people acknowledged having a fetish (43%), though men were 20 percentage points more likely than women to consider at least one of their sexual desires a fetish. Fetishes can involve intimate attraction to scenarios or objects that aren't inherently seen as sexual, though health experts say these desires aren't inherently unhealthy. While gay respondents were less likely to identify themselves as kinky compared to lesbians or bisexuals, 62% of gay respondents acknowledged having a sexual fetish. People who identified as straight were the least likely to have a sexual fetish. 
Spicy Situations
When discussing any of their kinks, most people needed five months on average before they were comfortable opening up about their own personal desires or fetishes. So what qualifies as kinky? To find out, we asked respondents to rank the level of kink associated with six relatively common sexual activities.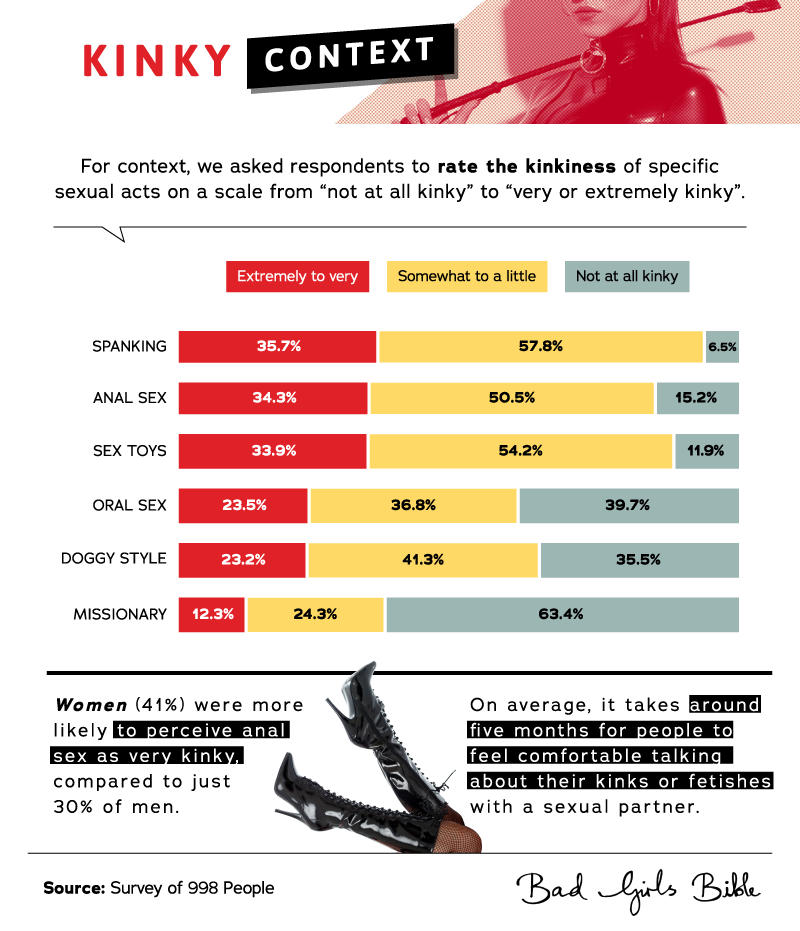 While 12% of people identified missionary sex as very or extremely kinky, spanking (36%), anal sex (34%), and sex toys (34%) were more commonly perceived as being kinky sexual activities. Even if your experience with sex toys doesn't extend far beyond vibrators, there are plenty of essential toys you can introduce into your nighttime actives (including masturbation) to broaden your horizons. 
Close to 1 in 4 people considered oral sex very or extremely kinky, and nearly as many said the same about Doggy Style intercourse. 
Side note: We also surveyed 1,114 women on whether they like giving blow jobs or not (they mostly enjoy it) and asked 1,058 women if they like receiving oral sex (they really like it!).
Finding Ways to Get Physical 
No matter what gets you hot and bothered, proper sexual communication between partners about what feels good (as well as what makes you uncomfortable) is crucial to positive and pleasurable intimate relationships. Nearly 1 in 3 people reported disliking their partners kinks or fetishes but still participated in them.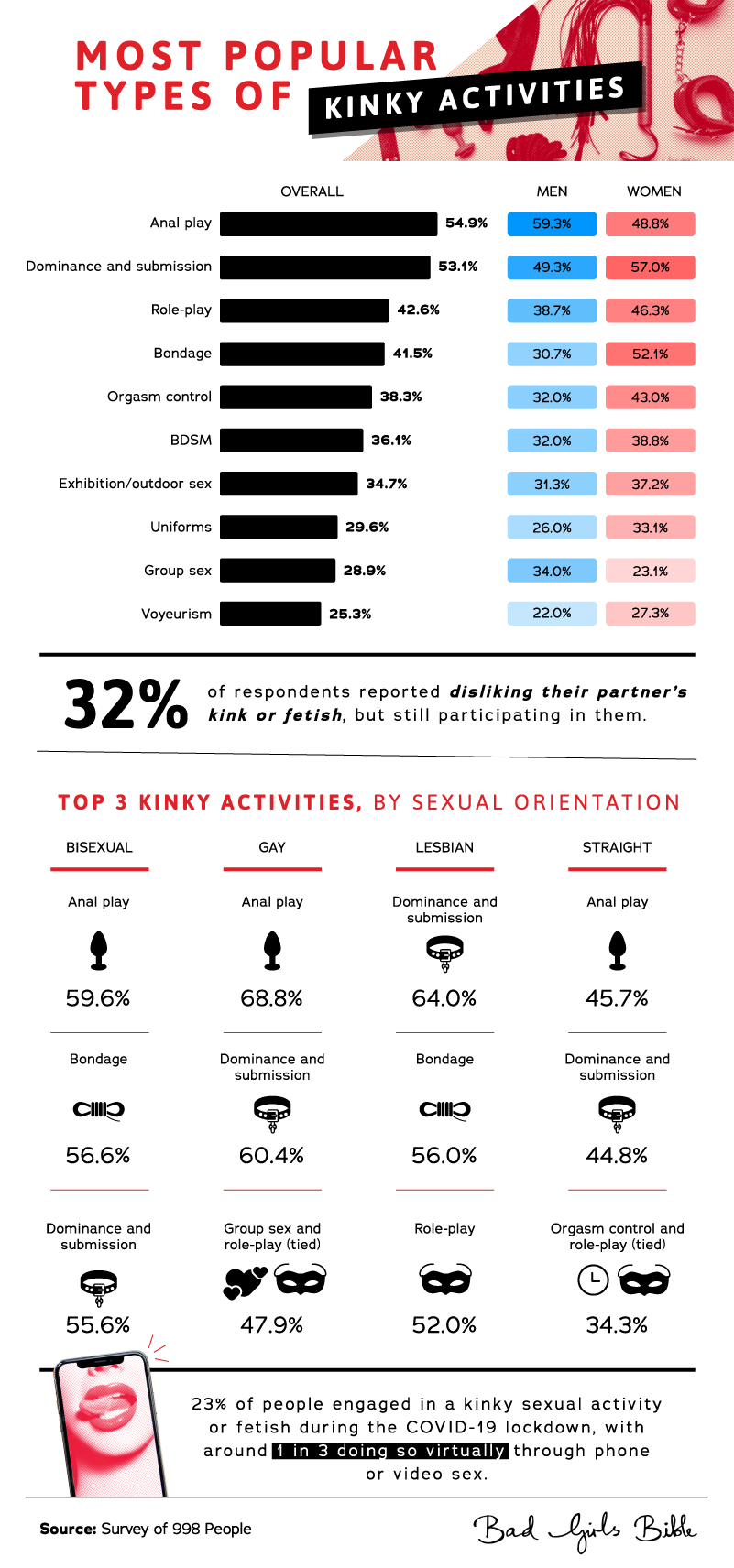 Anal play (55%) and employing dominant and submissive roles (53%) were the most common kinky activities, though men were roughly 10 percentage points more likely to prefer the former, and women were 8 percentage points more likely to prefer the latter. While submissive role play may not be for everyone, taking on that performance can be sexually stimulating, particularly for women. Other forms of role play (43%), bondage (42%), orgasm control (38%), and BDSM (36%) were also popular kinks for men and women. 
Anal play was the most popular "kink" among straight respondents (46%), bisexuals (60%), and gay respondents (69%). In contrast, lesbians were more interested in dominant and submissive activities (64%), bondage (56%), and role play (52%). 
Where there's a will, there may always be a way. Even though self-quarantine and recommended lockdown procedures may have kept people apart, 23% of respondents still found a way to engage in a kinky sexual activity or fetish during the COVID-19 pandemic. Of these, roughly 1 in 3 engaged in intimate relations virtually through phone or video sex. Even if you don't have to worry about the same dangers with virtual intercourse, it's important to remember that there are still rules for safe virtual sex, including using encrypted platforms, checking your privacy settings, and setting up an anonymous account. 
When we asked respondents to report on their fetishes, they were much less forthcoming. A fetish can be described as an attraction to an inanimate object, and even though today's society may be more open-minded about sex, fetishes may still be taboo for many. But for a bold few who wanted to tell us about their kinks, foot fetish and underwear or jockstraps made the top of the list. 

Finding Your Comfort Zone
Communication is well-regarded as a cornerstone for any good relationship and that includes sexual communication. Results found 53% of sexually active people were comfortable discussing their kinks or fetishes with their partner, though straight couples were the least comfortable talking about these desires. Of those who shared their turn ons, 55% of women reported a positive reaction from their partner, compared to 31% of men who received a positive response when divulging their kinks or fetishes.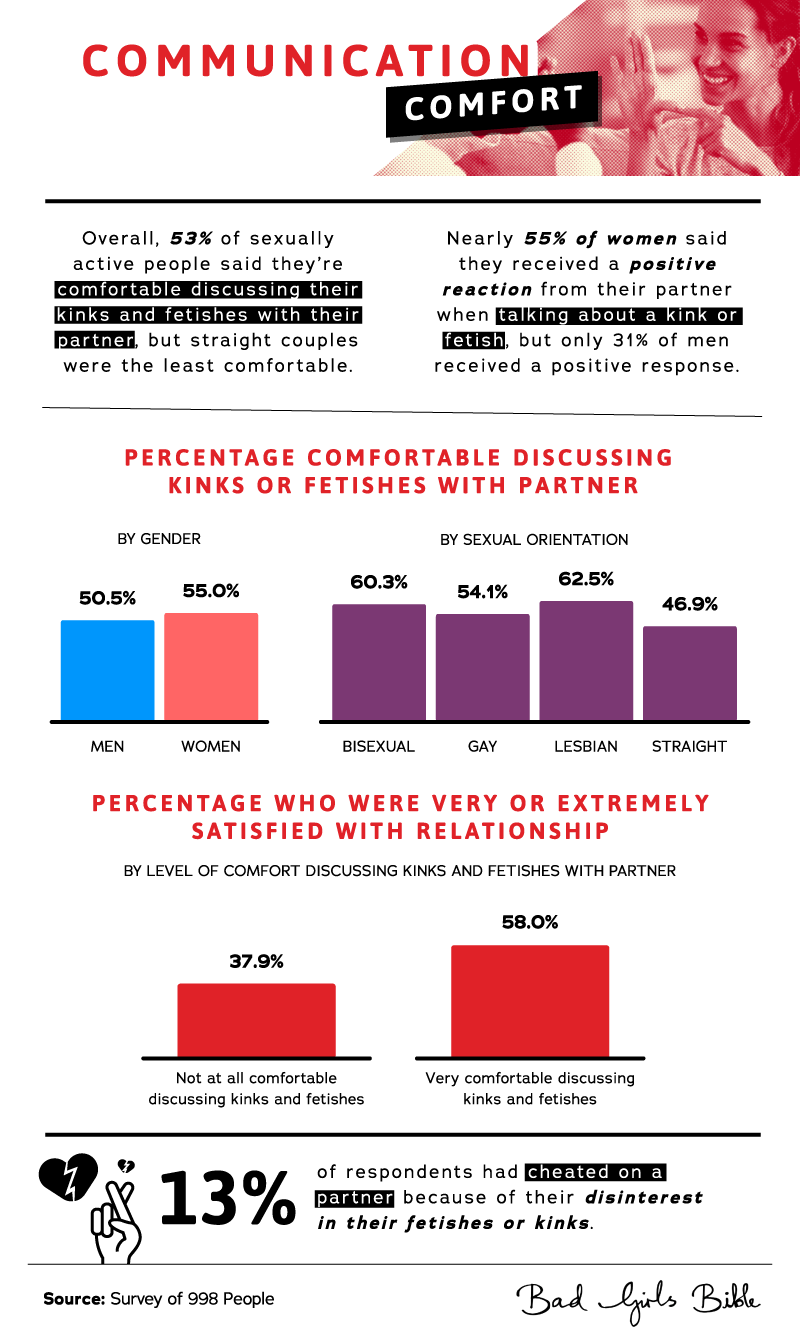 Lesbians (63%) were the most comfortable talking about the sexual preferences they considered kinks or fetishes, followed by bisexuals (60%) and gay respondents (54%). People who identified as straight were the least comfortable (47%) discussing their sexual preferences with their partners. 
Being able to share openly about what you prefer in the bedroom can have a positive impact on your relationship satisfaction. The data shows that 58% of people who felt very comfortable sharing their kinks and fetishes with their partner felt satisfied with their relationship. But those who felt uncomfortable discussing this topic with their partner reported less sexual satisfaction, in fact, only 38% of them said they felt satisfied with their relationship. Thirteen per cent of people also admitted to cheating on their partner because of a disinterest in their fetishes or kinks. 
Learn: 23 reasons why women cheat.
Embracing Your Passions
Even if they had different definitions of what being "kinky" means, a majority of people considered themselves at least a little to somewhat kinky in their sexual preferences. 
While straight respondents were often the least comfortable self-identifying as kinky (or having a fetish) or discussing those desires with their partners, anal play, orgasm control, and sexual role play were still relatively popular kinks within this group. More than half of sexually active people were comfortable talking about their kinks and fetishes, though more women typically felt their desires were positively received, compared to men. 
At Bad Girls Bible, we deliver weekly guides with our novel sexual research (just like this) discreetly into your inbox. With guides on how to explore everything from various sexual positions to blow jobs and dirty talk, Bad Girls Bible will help you improve your relationships and your sex life. Explore our tips for a spicier sex life and virtually everything that happens between the sheets online at BadGirlsBible.com today.
Methodology
We surveyed 998 sexually active people from the UK and the U.S. in order to explore kinks and fetishes. Respondents had to indicate they were sexually active at the time of the survey. Sample sizes were as follows:
Men: 523
Women: 464
Nonbinary: 11
Bisexual: 267
Gay: 140
Lesbian: 73
Straight: 518
 Ages of respondents ranged in age from 19 to 80, with a mean age of 32 and standard deviation of 9 years. Certain limitations apply to survey data due to self-reporting, and include, but are not limited to, telescoping, exaggeration, and selective memory. We did not weight our data or statistically test our hypotheses. This project was a purely exploratory look at kinks and fetishes among sexually active individuals. 
Fair Use Statement
Want to help share these sexual discoveries? We encourage you to share our kinky study for any noncommercial purposes, and we only ask that you link back here to us to give us credit.