The art of the flirty text message is a fine one, and things can get awkward if it is not handled correctly. To make things worse, your texts will be recorded in cyberspace. Do not let this stop you from sending flirty text messages though because texting can be a great tool for connecting with a new guy, or reconnecting with your long time love.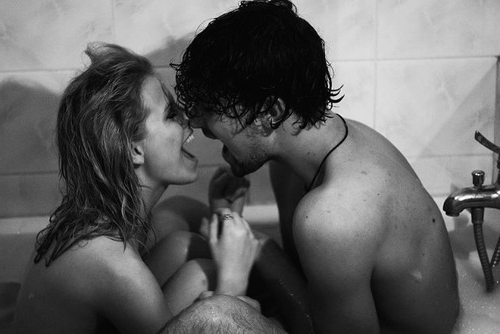 One important rule before you start mass sending flirty text message is that you need to crawl before you walk. And keep in mind that sending nude images is rarely a good idea, and illegal if you are under 18. Flirty text messages can be fun for both parties, and brighten up your day if done right, so follow these rules and you'll find it simple! And if you're looking for even more tips on flirting, read this detailed guide.
Make it Personal 
Sometimes things that have no meaning at all and are even out of context, can bring back an illicit memory or warm feeling. For example if you had a romantic vacation, got a little messed up on a certain drink and did things you thought you would never do, then a simple flirty text message with the words: "Tequila Sunset and Bora Bora memories have me grinning and no one here knows why." Will bring those same memories to your lover's mind.
Take it Slow
Do not make the first thing you text be details about how you want it dirty and where. Instead ease in, flirt without giving it all away. Texting is not having phone sex. It take finesse to flirt, yet not revel too much at once. Try something like: "I just smelled your cologne on my shirt from our kiss this morning… now I suddenly cannot wait to see you tonight." This conveys physical attraction without putting it all out there in text. Perfect for building sexual tension…speaking of which, you might like this article on how to build massive amounts of sexual tension with your man.
Ask a Question 
If you are hesitant to text a guy you are into , then break the ice with a question. If you have a class together ask a question about the class, or work, or whatever common interest you share. If all else fails go with: "Can you please help me fix my slow computer?" Or something that is relevant to his expertise. The concept is old fashioned, and today there are few damsels in distress however flattering his ego is a great way to start a relationship. If you are looking for dirtier questions, here's over 40!
If you want to give your man back-arching, toe-curling, screaming orgasms that will keep him sexually obsessed with you, then you can learn these sex techniques in my private and discreet newsletter. You'll also learn the 5 dangerous mistakes that will ruin your sex life and relationship. Get it here.
Paint a Picture With Words 
So your sitting home waiting for your guy to arrive, but he has to work late. Hurry his pace with a flirty text that shows more than it tells. I am looking at three things: "A half empty bottle of red wine, a pile of my cloths, and a marathon of our favorite show. The only thing missing is you… :)" Instead of complaining about him being late, you showed him what he was missing.
Secret Code
Do you have a "safe word"? Or something that is completely inappropriate to bring up in public, yet sounds relatively innocent? A single text of your safe word, or an inside joke is a great way to bring a smile and perhaps a blush to his face while you are away. If your safe word was pineapple for example then this text would seems innocent but he would know better "I am really in the mood to try some PINEAPPLE tonight…. ;)" When you send a flirty text message, you are basically whispering in your lover's ear no matter how crowed the area.
Humor 
Sure you think your lover is sexy and you want him to know it. However, every flirty text message does not have to be sexy. Humor is a great way to bond, and cheer up your love while you are not together. It can be a silly joke, or whatever works. Try this one to be both funny and provocative: "How fast can you guess these words?"
_ _ _ k

_ _ndom

d_ck
Then once he texts back, you can correct him…these are the answers:
book

random

duck Did you get them right, I hope not because I did not! 😉
Say it Another Way 
Do you know how to say I love you in Spanish, French, or German? "Ta amo. Je t'aime. Ich liebe dich." Add variety by saying it another way. This also works for phrases other than I love you, such as "you make me hot". "Usted me hace caliente." Flirty text messages can teach your guy a little culture.
Say What You Are Really Feeling

.

You do not always have to be super clever, or flirty. Just the words "Thinking of you" in a single line of text is to the point and sweet. Texting can be a great way to connect throughout the day with established lovers. By the way, if you're looking for tips on how get a guy to like you, you may want to check out these 10 intense techniques.
Be Enthusiastic
Text about what interests your lover. If he follows a sports team, then a text supporting that team or celebrating a win shows you care about him as a friend. "Go Raiders! They Kicked Butt Tonight!" Showing support for a team he supports and follows is also a great way to start a text dialog with a new guy. Don't forget to show this same enthusiasm when you are having sex…speaking of which, if you want a masterclass in sex, you may be interested in this.
Open the Door for a Date
If your relationship is not to the point of sexy texts, or I love you messages in another language then a casual text that shows you're available to hang out without pressure is key. Try the breezy "I have worked hard all week and want to cut loose tonight, you game?" Or, "A group of us are going to the movies but no one wants to see the movie I want to see, want to keep me company?" This is relaxed, casual, and shows your interested in spending time with him without putting on the pressure if he is not interested.
Be Observant 
Daily conversation starters will fall in your lap if you are observant. You do not need to be up to date on all the latest news. However if you happen to notice that there is going to a meteor shower in your area that night, then you would have the opportunity to text: "I am going to be staring at the sky on a blanket for a once in a life time show, and you're invited." Your observations about the world around you can make your flirty text messages even better.
Challenge Your Lover 
You do not need to be a dictionary, but do not be afraid to show your intelligence. Tell him something about the world that you do not think he knew, broaden his horizons even if it is with a technically useless fact such as "Your body contains enough iron to make a 3-inch nail."
The Old Blank Text Move 
If you are unsure exactly what to send, don't sent anything. When/if he replies saying he received a text from you with no actual text, you can take it any direction you are comfortable with. From "Oh, I guess my phone read my mind." to "I have no idea how that happened but how are ya?" If you want to instead send something dirtier, then you will appreciate all the dirty text messages you'll find in this guide.
Ham It Up
Cheesy pick up lines can bring a smile to his face if sent at the right time. Try an old classic like "Do you have a name, or can I call you mine?" Silly lines will make your guy grin, and if your relationship is new and he does not respond the way you hope you can back it out like it was just a joke.
Play it Cool
Do not revel all in a text, or even a series of texts. If an important revelation of feelings is going to occur, it should be face to face. Pull away if things get too intense and actually dial a phone or drive to his location. Keep things light and flirty when you are not face to face. If he does try to revel something important try "Can we meet tonight and chat face to face?" Then you can see his face when he declares his love, or true intentions for the first time. No matter how fun the flirty text messages are, that moment should be tangible.
Do Not Be Afraid To Use Emoticons, but Don't Over Use Them
Emoticons can reveal your tone, and this is important during texting. "I have had such a long day, let's get drinks ;)" sounds really flirty just because there is a 'wink' emoticon at the end.
Allow the Messages to End Without Replying Immediately 
You do not have to have the last word. No matter how witty you can be, know when to leave it hanging until tomorrow. Don't let things reach that awkward stage. So once things get a little trite, just leave him hanging. Sometimes what you don't say speaks very loudly.
Flirt as If You Were Face to Face 
Flirt by text in a similar fashion as you would face to face, assuming you are particularly vivacious. For example send the text, "Cut it out!" and when he asks Cut what out? You can reply, "You have got to cut back on how much you have been thinking of me!" It is a bold text, but if you are confidant go for it.
Remember that flirting over text can be misconstrued, take things slow at first. It is important that you have fun with it along the way. Be witty, fun, and yourself, and don't over think it. Have fun, and save the illicit and explicit pictures for much farther down the line, and not online at all. Flirty text messages can be sexy but often it's hotter to save actual sex for the bedroom.
Watch This: Blow Job Tutorial Video
I put together this in-depth, step-by-step instructional video that will teach you how to make your man sexually addicted to you and only you. It contains a number of oral sex techniques that will give your man full-body, shaking orgasms. If you're interested in learning these techniques to keep your man addicted and deeply devoted to you as well as having a lot more fun in the bedroom, then you may want to check out the video. You can watch it by clicking here.