This discreet newsletter will teach you how to make him cum hard, give freaky oral sex & make him scream your name in bed. Click here to get it.
There is a right way and a WRONG way to pull someone's hair during sex. The right way will unleash the kinky, lustful animal inside your partner. The wrong way will turn them off and even hurt them. I'm gonna show you the right way 🙂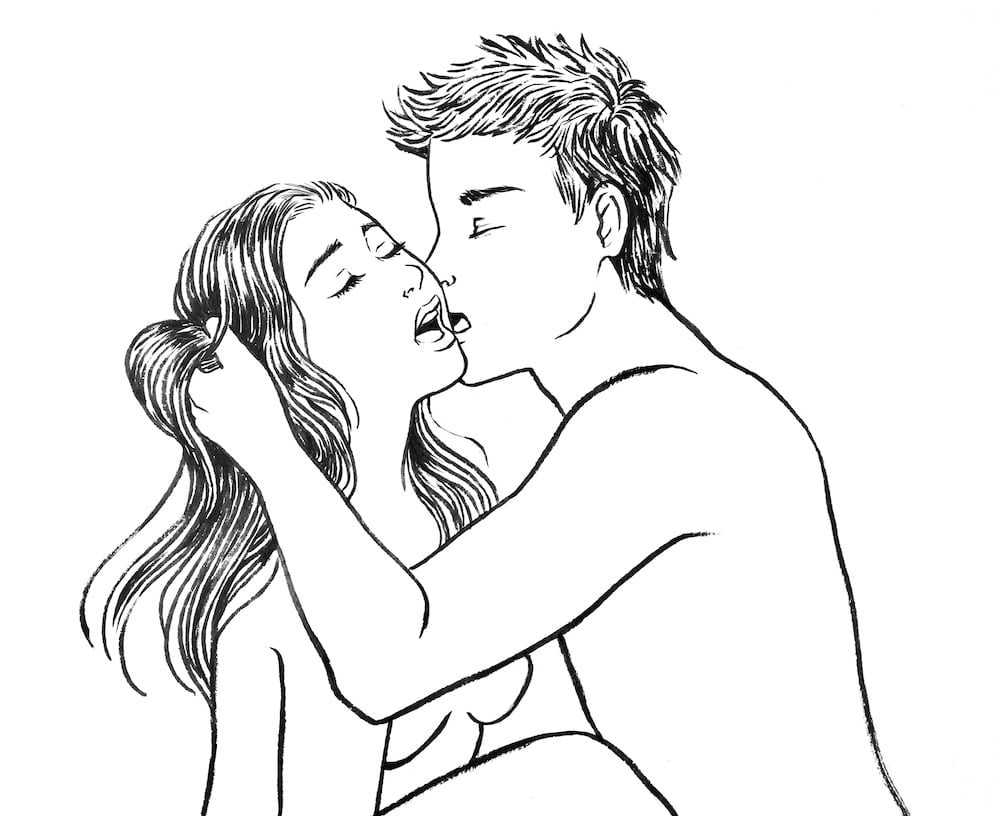 Feeling your partner slide their hand up the back of your scalp before grabbing your hair can make you gasp without realizing it while sending a tingle down your spine.
Side note: If you are currently struggling to orgasm during sex or masturbation, then you may want to learn about the Easy Orgasm Solution. It begins by teaching you the techniques to orgasm easily and consistently. Then you'll learn how to have multiple vaginal and full body orgasms during sex and masturbation. You can find out more here.
And if you're the one pulling your partner's hair…
The feeling of power and domination over your partner can feel intoxicating.
But…
It can be easy to get carried away during rough sex or BDSM.
Remember to check in with your partner. You might initially have their consent, but the experience–and their needs–could change during sex or a BDSM scene or role play.
Related: If you want to give your man back-arching, toe-curling, screaming orgasms that will keep him sexually addicted to you, then you'll find them in my private and discreet newsletter. You'll also learn the 5 dangerous & "dumb" sex mistakes that turn him off and how to avoid them. Get it here.
Be careful – It doesn't take much to grab someone's hair or use their hair to move their head. You can always use more force if you need to, but you can never take back an overwhelming amount of force that causes unwanted pain.
One last thing, before we dive in…
Don't forget that while some people might love having their hair pulled during sex, they're unlikely to enjoy the same outside of the bedroom.
Why Do Women Like Their Hair To Be Pulled During Sex?
In terms of physical reasons for liking hair pulling in bed, the scalp is full of nerve endings that are stimulated by hair pulling–and tons of other activities. We're talking two to 20 nerve fibers surrounding each and every hair follicle [1]! Even if you don't have a hair pulling kink, you may have enjoyed a scalp massage. It's really not that different, thanks to those nerves that make you super sensitive.
Go deeper: 23 Kinky Things To Try In Bed
Others suggest that the brain's pleasure and pain centers are physically close, so a little pain can trigger good feelings. Hormones might also play a role.
Keep in mind that plenty of men have long hair, too. It might be less common for them to experience it, but many men will like having their hair pulled during sex!
Learn: How To Dominate Your Man In Bed
The desire to pull hair during sex is also pretty common. It can feel incredibly dominant, especially because it lets you control your partner's body position. This is why it's a great tool to use in BDSM or when you're trying to be freakier in bed.
How to introduce hair pulling to your partner
Talk about it.
It's smart to talk about hair pulling before actually pulling your partner's hair during sex because your partner might not be into the idea.
Some people prefer hair pulling with established partners and not hookups or new lovers.
Potential negatives to surprising someone by pulling their hair include:
Breaking their hair
Pulling it out
Triggering trauma
Hurting them
Removing a wig or extensions (that you may not realize are there).
People with trauma, fragile hair, certain hair textures or styles (Marley braids, for example), and conditions that cause hair loss, such as alopecia, may wish to avoid hair pulling entirely or prepare for it to minimize unwanted consequences.
For many, it's not a big deal – Bringing up your desire to pull hair–or have yours pulled–during sex may not feel like a big ask of your partner. Although hair pulling is a hallmark of rough sex to many, it's often mainstream enough that it's not considered BDSM. Many people wouldn't be surprised or offended if their partners brought up hair pulling during sex.
However, you know your partner better than some stranger on the Internet. If they're especially shy, reserved, easily embarrassed, or "vanilla," consider a more gentle approach. On the other hand, you might be pleasantly surprised if they happily consent to the idea!
Start slowly & carefully – If your partner is interested but cautious, set up a safe word they can use to stop play immediately to check in. This way, you'll help ensure they never have a bad time.
Remember, you should always follow certain safety rules in BDSM.
Where To Hold Their Hair
Generally, you want to grab hair from the back of your partner's head where it's the thickest. The safest way to grasp the hair when pulling it from the base. This is the most comfortable for your partner, the least likely to break their hair, and the most effective way for you to move their head while pulling their hair.
Pull hair from the back of the head–behind the ears. Otherwise, you risk the chance of pulling it out, breaking it, or causing pain that your partner doesn't like.
How To Grab Her Hair & Pull It During Sex – 3 Steps
Step 1 – Start by placing your palm against the back of your partner's neck, below their hair.
Step 2 – Slowly slide your hand up the back of their head, along their scalp with your fingers apart. Their hair will be running through your fingers.
Step 3 – When you reach the middle part of the back of their head, at about the level as their eyes, gently curl your fingers into a gentle fist holding a bunch of your partner's hair.
Gauge their interest & pleasure – At this point, you don't have to pull. You need to gauge your partner's comfort and interest. If their body tenses or they stop what they're doing, let go and move your hands elsewhere.
If you can tell that they enjoy it…
Try gently and slowly pulling their hair so their head tilts back slightly.
Firm but gentle – Make sure you have a firm grasp on the hair. If it's too loose, it won't be effective. But if it's too hard, you can also hurt your partner.
More hair is better – When grabbing their hair, make sure you are grabbing a lot strands. If you only grab a few strands, it can feel painful for your partner. Grabbing a bunch won't feel painful. Try it on yourself to see what I mean.
When they have a ponytail/bun – This method also works if your partner has a loose bun or ponytail. You can simply keep your fingers and hand between their scalp and hair tie. If their hair is especially long, you could wrap their ponytail around your hand.
Pulling short hair – You only need a couple of inches of hair to pull! However, you might not be able to grab as much if your partner has short hair.
When they have thick/curly hair – If your partner has really curly hair, your fingers could easily get stuck or tangle their hair, so you'll need to proceed with caution when pulling it.
The bottom line – This is a lot of information, but don't worry…
After you try it a few times, while paying attention to your partner's reactions, you'll figure out what works and doesn't work for you.
Positions That Work Great For Hair Pulling During Sex
Hair pulling works best when you can place the palm of your hand against the back of your partner's head, so face-to-face positions where the hair is free to grab are best. This makes woman-on-top positions such as Cowgirl or Reverse Cowgirl ideal.
Psst: Learn how to be more confident when riding your man!
You can also consider the following positions for hair pulling during sex:
Incorporating Hair Pulling Into Rough Sex & BDSM
If you're into rougher sex or BDSM, you can do a few things once you have a hand full of hair, including pulling their head back to make eye contact or…
Dominantly shifting them into standing or kneeling positions
Pulling them away from your cock during a blow job
Pulling them back towards you when having sex from behind or anal sex.
If your partner is into slapping, you can do that with your other hand while you pull their hair.
Humiliation/Degradation – Because pulling hair tends to mess it up, you might use it in your humiliation or degradation play, especially if your partner prefers to be neat and tidy.
Bondage/Shibari – Some people even use rope to tie up their partner's hair or incorporate hair into bondage. Note that you do not want to use someone's hair to support any weight. However, you can tie hair for decoration or in addition to more functional bondage.
Primal play – Hair pulling during sex also works well with primal play, a type of BDSM where people enjoy more animalistic interactions that are less rigid.
Choking – Finally, if you move your partner's head back by pulling their hair, their neck will be free for choking. Or you can wrap long hair around your partner's neck and lightly choke them with it. Of course, this is a dangerous activity, but some people like it anyway.
Incorporating Hair Pulling Into Sensual Sex
Although sexual hair pulling can be more aggressive, it doesn't have to be! It can be great for having sensual sex too. For example, you might pull your partner's hair during sex to guide their face for a kiss.
Sensual scalp scratching – Instead of roughly pulling your partner's hair during sex or for a long time, you might pull it briefly before massaging or lightly scratching their scalp.
Here's the best way to scratch your partners' scalp…
Start with your palm on the back of their neck, gently curl your fingers and then run your nails up the back of their neck/scalp. This will gently scratch it.
When you almost get to the top of their scalp, very lightly grab some hair between your fingers and gently run your hand back down their scalp allowing their hair to run through your fingers.
When you reach the bottom, start over.
Brushing & Stroking – Lightly brush their hair away from their face or stroke their head/hair for a more intimate and sensual experience. You could even use hair pulling, along with brushing and stroking, during pet play scenes where you care for your sub.
Hair Pulling & Consent
Communicating with your partner before any hair pulling is vital, whether you are pulling your partner's hair or they are pulling yours. This will help to prevent you from crossing any boundaries and hurting your partner.
This thread on Reddit explores people's experiences with hair pulling and rough sex in general. You'll read experiences where consent was given beforehand and, more importantly…
Where there was no discussion beforehand, and no consent was given, leading to really bad experiences.
Bottom line – Make sure boundaries are discussed and consent is sought before any sexual activity.
Amping Up Sex With Advanced Hair Pulling Tips
While kissing – When you know your partner likes hair pulling (maybe they even have a hair pulling kink), you can pull their hair during a passionate kiss to help get them in the mood for sex.
Related: The Complete List of 239 Kinks & Fetishes
During Doggystyle – Try pulling your partner's hair and slapping their ass when doing doggy style.
During Dirty Talk – With your partner's hair in your grip, you can pull their head to the side so your mouth is close to their ear. Then, feel free to moan, sigh, growl, give an order, or just breathe heavily into their ear!
That's plenty of inspiration for you to try sexual hair pulling with your partner. So get out there and pull some hair–consensually, of course!
Orgasm Every Time. Easily. Here's How...
I want to tell you about my friend Karen.
Karen came to me one day. She was hysterical.
She told me that her marriage was falling apart because she and her husband didn't have satisfying sex.
Every time they were intimate, Karen was faking her orgasms. It turns out she couldn't orgasm during sex.
In fact...
She never had an orgasm in her entire life. Not one!
This left her feeling embarrassed and ashamed. And...
She completely hid this from her husband. Thankfully...
It turns out that there is a way for any woman to orgasm. Easily. And have multiple vaginal and full body orgasms during sex and masturbation.
After I shared the simple process with Karen, she could barely come to terms with how...
Quickly and dramatically her sex life changed.
We met up a few months later and...
She would not stop talking about it,
"I thought I was one of those women who couldn't orgasm. I used to think I was 'broken' and 'unfixable.' This saved my sex life, and that saved my marriage."
Even if you currently struggle to orgasm during sex or when masturbating, this process will also work for you.
And best of all, you don't need to do anything weird or uncomfortable to start having the best orgasms and sex of your life.