For many people who want to spice up their sex lives, anal play makes sense. But you might be wondering what you would get out of it as a receiver. Did you know that many people can achieve anal orgasm? In fact, this is why some men and women love being on the receiving end. Plus, providing your lover with that kind of pleasure can be addicting.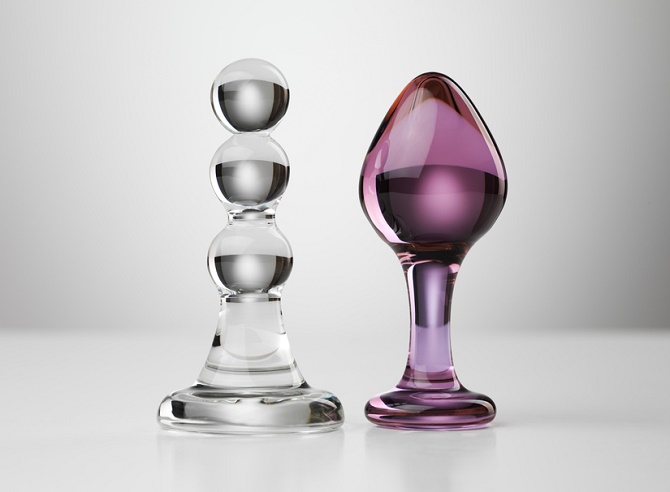 What Is An Anal Orgasm?
In short, an anal orgasm is one that you have from anal stimulation, which can include a number of activities that we'll describe in-depth below. The cause of anal orgasms tends to differ for men and women and using the right anal sex position can be important to get the stimulation you need to cum from anal.
Can Men Orgasm From Anal Sex?
Yes! We're not just talking about when he's the giver, either. Men have a walnut-shaped organ known as the prostate (sometimes called the anal or male G spot) that can be accessed through the anus. Stimulating it the right way can give him an intense full-body orgasm. You definitely want to get to know the prostate if you want to give him an anal orgasm. You can see the prostate in the cross-section below: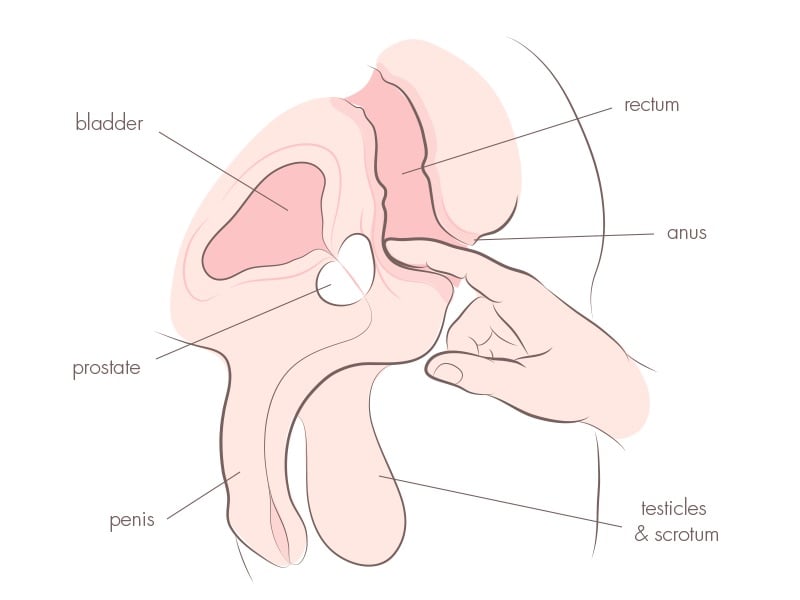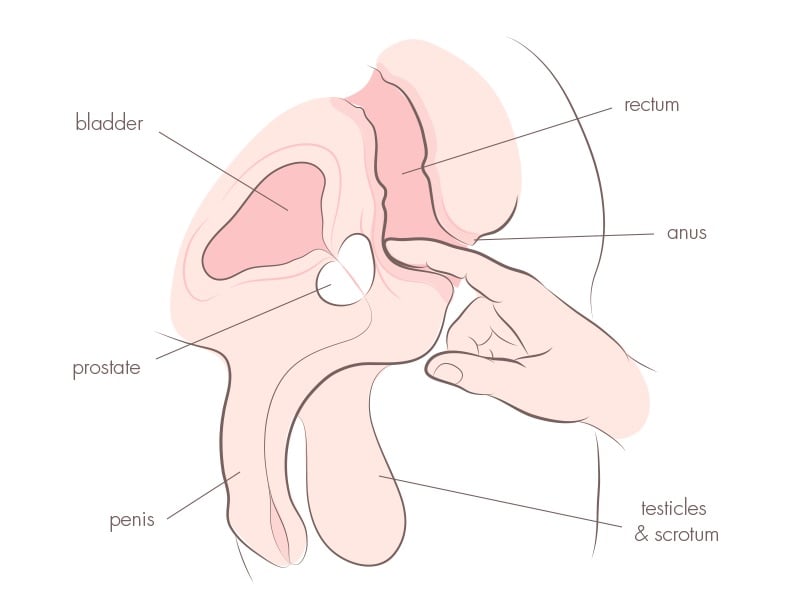 And no, it's not gay.
It's totally natural for guys to enjoy anal pleasure. So why not trying giving your guy an anal orgasm?
For some, ejaculation may occur with each orgasm, but the volume of ejaculate diminishes over time, leading to what many may perceive as nonejaculatory or dry orgasms. [2]. On top of that, prostate orgasms may be one way for men to experience multiple orgasms [3 p 37].
Note that men who have had a prostatectomy may not be able to have anal orgasms because the surgery caused damage to the nerves [4]. So if you struggle to find out how to give a guy an anal orgasm, check if he's had a prostatectomy.
Can Women Orgasm From Anal Sex?
Some women also report having full-bodied, intense orgasms from anal stimulation. Although they don't have a prostate, so the reason is different.
Now, you might wonder if anal orgasms are real. The only way to truly find out is to try to cum from anal yourself.
There's no one single way for you to have an anal orgasm. But this means you can have fun enjoying a variety of anal stimulation as both the receiver and as the giver of pleasure to your man. Now, let's learn the best ways to have an anal orgasm with these tried-and-true anal orgasm tips (Also check out our guide on how to have anal sex).
Ways to Have An Anal Orgasm
Fingering
Fingering isn't just good vaginally. Anal fingering is a great way to slowly test the waters of penetration, and even if you never insert anything larger than a finger, you can still enjoy anal pleasure.
It's essential that fingernails are trimmed short and you file off any sharp edges that could cause pain (these are useful tips to prevent anal from hurting). Slipping fingers into a condom or a medical glove can help to increase comfort during anal fingering, too. Pro tip: add a cotton ball to the tip of the glove if you have long fingernails.
You can start by stimulating in and around your rosebud without penetration, which is great if either you or your partner is squeamish about the idea.
Related: How To Use Anal Fingering To Double Your Pleasure
When you're ready to penetrate, slather some lube on your finger and partner's anus. Slowly slip a single finger in first. Allow your partner to get comfortable. Experiment with thrusting and turning your hand. You can also use your thumb externally.
If your partner is comfortable, add a second finger —or more!
Salad Tossing
Salad tossing is the euphemism for licking your partner's anus, which you might know better as giving a rim job (more on that here). We've got a great article with tips to prepare for salad tossing as the receiver and the giver. A dental dam, a small square made from latex like a condom, is a great way to protect from negative experiences and possible bacteria transmission. It allows you to stimulate one of your partner's more erogenous zones intimately!
You can prepare for a rim job by showering and cleansing with a wet wipe beforehand. For extra protection, warm water in a douche will leave you feeling squeaky clean; although, you can perform an enema for the ultimate in cleanliness. This allows you to enjoy anal orgasms without worrying about any potential fecal matter or unpleasant smells.
Start by licking, kissing, and biting your partner's cheeks. Then, you can lick the anus or penetrate with your tongue. Try keeping your tongue flat and wide or switch to narrow and pointed to see what your partner likes. You'll find more tips in our ass eating guide.
Butt Plugs
There are plenty of anal toys available, and butt plugs are among the most popular! The basic shape of a buttplug is similar to the spade symbol on a deck of cards, with a tapered end that you insert. This grows to a bulge and then slims to a thin neck, followed by a flared base, which makes it safe for anal play. Some have angled shapes, often for prostate stimulation, multiple bulges, or texture. Some vibrate.
Butt plugs are intended to be inserted and remain in position. They provide a general filling sensation. You can wear a butt plug during vaginal sex or masturbation or even around the house while doing chores! Click here for more ideas when using butt plugs.
Anal Beads
Another popular type of anal sex toy is a chain of bulges known as anal beads. All the beads might be the same size, or they may increase in size to provide stimulation as you insert them and pull them out. Make sure to lube your anal beads sufficiently before popping them in, and follow these tips to choose the right anal beads.
Anal beads should be made of body-safe material such as silicone that's easy to clean.
The connecting material should also be made of silicone. Beads made from a single piece of material are safer than beads tied together because the string can break.
There should be a handle or loop to remove them safely.
Check out more info on anal sex safety.
Dildos
There are a variety of other sex toys that you can use to have anal orgasms. However, you should not use any toy without a flared base or shape — a C shape, for example — that could possibly become lost inside the body. No one wants a trip to the emergency room!
If you're using sex toys anally that you also like for vaginal use, you should never go directly from ass to vagina. Use condoms that you can remove or simply choose toys that can be safely disinfected before you use them vaginally. Otherwise, you can transmit bacteria and cause a nasty vaginal infection! It's generally unwise to use household items as an anal dildo.
Materials that can be sterilized include silicone, glass, stainless steel, treated wood, plastic, and ceramics. Boiling any toy without a motor for three minutes will remove any bacteria you can't see. You can also toss them in the top rack of your dishwasher. You also should spray vibrators with a 10% bleach solution to clean after anal usage.
Prostate Toys
One category of butt toys is designed to stimulate the prostate. Some are C-shaped and similar to G-spot toys. Others are like dildos with flared bases and curved heads. A popular toy for prostate milking has three arms: one is inserted, one works as a handle, and the other stimulates the prostate as it lies against the perineum on the outside of the body. Many vibrate, and some even have rolling balls to increase stimulation.
The toy should angle toward the balls for the best chance of having an anal orgasm. You can leave prostate toys in place, perhaps during other activities, or rock and thrust them against your prostate if you prefer. Make sure to talk to your man and learn the anal orgasm techniques that work for him.
Strap-on Sex
Strap-ons provide an excellent way for you to stimulate your partner to anal orgasm. Strapping on a sexy dildo can make you feel powerful in ways you didn't imagine, which is excellent for power roleplay (and one of the reasons guys like having anal sex). However, it's also ideal for stimulating his prostate, especially if you choose a dildo that's got a curved head. The prostate, which is about two inches in, is curved toward his stomach, so make sure you're positioning the dildo correctly.
Check out our advice for massaging his prostate.
Strap-ons are used with a harness. There are many types of harnesses, but the standard design is created in different sizes, so you can get one that fits your hips. Harnesses come with permanent or replaceable O-rings, to which a standard dildo with a flared base fits. If the O-ring is replaceable, you can get a ring that's compatible with your favorite dildo. Some harnesses also come with their own dildo or set of dildos.
One manufacturer makes Vac-U-Lock harnesses, which use suction to secure. Avoid Vac-U-Lock attachments made from anything other than silicone because these materials are porous and retain bacteria even after you wash them with soap and water. However, you can find silicone attachments that work with the Vac-U-Lock system.
Read more about using a strap-on. Get tips for pegging.
Anal Sex
Of course, the ultimate penetrative act to bring yourself to anal orgasm is anal sex. As the recipient, you get to feel filled like never before. Either you or your partner can add clitoral stimulation to help you cum during anal more easily.
Check out these anal sex positions. You may need to experiment to get comfortable if you're having anal while pregnant—more advice about that.
Your approach to anal sex should be slow and thoughtful, not reckless. Make sure you're relaxed and comfortable. Take time for plenty of foreplay. An orgasm or two before anal sex can make it easier to have anal orgasms, especially if you find it easy to have multiple orgasms. More on that here.
If you want to void pain, try this anal orgasm technique: your man can insert just his tip and remain in place until you're comfortable enough for him to continue. Or you can work your way up to your partner's penis or a larger toy by using smaller toys and fingers.  This is known as anal training. More about that here.
Avoid desensitizing sprays. Pain is your body's signal that something is wrong, and you can do real damage if you ignore it.
Pushing down with your anal muscles when your partner first penetrates you can actually make it easier even if this feel counter-intuitive.
You should always use lube when having anal sex because the anus doesn't self-lubricate.
Finally, communication is essential to having pleasurable anal sex whether or not you experience anal orgasm. Your partner should be willing to slow down or stop at your request. Anal sex might be uncomfortable, especially at first, but it shouldn't be outright painful or cause bleeding.
Just in case you were wondering, you can't get pregnant from anal sex.
If you want to void pain, try this anal orgasm technique: your man can insert just his tip and remain in place until you're comfortable enough for him to continue.
Double Penetration
When you think of double penetration, you might think of a woman and two men. One penetrates her ass and the other her vagina. But you can achieve something similar with one partner and a toy.  Because of the proximity of the rectum to the vagina, adding another toy or penis adds stimulation and makes you feel more full. This might help you have an orgasm through anal or have better vaginal orgasms.
Guys who want to know how to give a woman an anal orgasm should definitely try the double penetration technique whether with another man or with a toy like a butt plug or dildo.
Sex Positions for Anal Orgasms
Try the following positions if you're trying to have an anal orgasm.
All fours – Getting on all fours (doggy style) offers backdoor access to your partner during anal sex, pegging, and rim jobs. It also works well for solo play with butt plugs, anal beads, and other toys. Either you or your man can stimulate your clitoris in this sex position.
On your back – Some people enjoy lying on their backs and lifting their knees toward their chest for anal sex or other partnered play.
On your side – You can also try lying on your side and bending your top leg to your chest for solo or partnered play.
Cowgirl or Missionary – Of course, you can always pop in your favorite anal toy while you ride your man or practice standard Missionary sex position. Cowgirl is also perfect for your man to reach around and stimulate your anus manually. Even if you don't have an anal orgasm, you might still cum harder with the additional stimulation.
Lotus – In a position like Lotus, where you sit on your partner's lap, anal sex is possible.
Don't forget to try anal sex standing up, sitting with your butt hanging over the edge, or kneeling and leaning forward on your arms so that your butt sticks up in the air. The latter is a good position in which to give yourself an anal orgasm.
However, the position may not be the most crucial factor when it comes to anal orgasms. This is especially true for women who don't have a specific spot that they need to stimulate to climax anally. For men, this "spot" is the prostate. Pick positions that are comfortable and enjoyable for you and your partner.
Finding What Works For You to Have Anal Orgasms
Although there are a ton of techniques to use that might be pleasurable, not all of them will give you anal orgasms. You may simply not like some of them. Furthermore, you enjoy certain types of stimulation that your partner doesn't like. All of that is okay!
Remember that you don't just need to stick to anal play if you want to have an anal orgasm. Incorporate your genitals, nipples, and any other sensitive parts. Connect with as much of your partner's body as you can, and kiss each other deeply if you're able to.
Another thing to factor in is how you're feeling. If you're ill or having GI distress, it's probably not a good idea to participate in heavy anal stimulation, especially anything that involves penetration. It's important to pay attention to your body no matter how much you might want to have an anal orgasm.
You might be pleasantly surprised, however, at how much you like anal stimulation. Some women even prefer it to vaginal penetration and like to experiment with anal masturbation! And enjoying that type of intimacy with your man can bring you closer together. However, not everyone can achieve an anal orgasm, and some people will never be comfortable with butt play. Wherever you fall on the spectrum, it's fine!
Finally, poo is always a possibility when playing with the backdoor. If it happens, try not to freak out. Clean up, and support your partner just like you have a right for your partner to be supportive. Dental dams and condoms can help minimize the mess and make cleanup easier.
While it might take some time to discover how to orgasm from anal, trying to do so should be fun. If it's not, feel free to stop trying it and try some other fun sex tip.
What Does An Anal Orgasm Feel Like?
Many men and women report anal orgasms feeling more full-bodied than other types of orgasms. If the orgasm is the result of prostate stimulation, it often doesn't involve ejaculation. Most people describe these orgasms as intense, and some even mention pain when having an anal orgasm. Although, the pain may be "good" pain.
Frequently Asked Questions
FAQ #1 – Can everyone have an anal orgasm?
Orgasms are so individual, and it's hard to say "Yes." People often struggle to orgasm, and the same goes for having an anal orgasm.
Still, many men can enjoy anal orgasms because that's where their prostate is, which is the key to giving a man an anal orgasm. In fact, this powerful organ might be the only way to have anal only orgasms for many people.
Some but not all women can have an anal orgasm, too. Yet, they don't have prostates. The pudendal nerve branches to the clitoris and the rectum [5], contributes to sexual sensitivity in the penis [6] and promotes sensation from the labia and clitoris as well [7].  So it may well play a role in women's anal orgasms. It's also possible that there is G Spot stimulation or even A Spot stimulation through the anal wall that helps a woman get off during anal.
Even if you can't have an ass orgasm, you can have a lot of fun experimenting!
FAQ #2 – What if I find anal sex painful and not pleasurable?
That's fine too, but if the pain is disproportionate, you may have some other down there. For example, anal sex can irritate hemorrhoids and cause bleeding [8]. Remember to use lube to make things more comfortable when trying to give a woman an anal orgasm or learning how to cum from anal yourself. We also have a guide on how anal sex can be painful and what to do to make it painless.