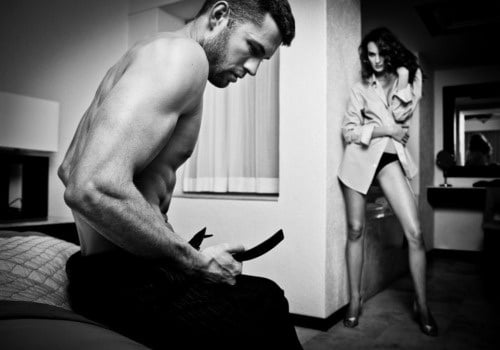 Learning how to give a great hand job to your man is an important tool to have in your arsenal. Along with knowing how to give a great blowjob and some great sex positions, knowing how to give a handjob properly will take your sex skills to the next level. You may be wondering what the 'single best handjob technique' or the 'way to make it perfect every time'.
The truth is there is no 'single best handjob technique' or 'way to make it perfect every time'
This is crucial to understand. It's something I teach in my FREE Bad Girl's Bible newsletter. The truth is, different guys like different things. So if you think that one single technique will work every time on every guy, then you are unfortunately wrong. Fortunately this article will teach you enough different hand job techniques so that you will always have something that your man will thoroughly enjoy.
Now you are probably wondering, what are these handjob techniques…
Tease, Tease & Tease Some More!
You are probably well aware that most guys can get turned on very quickly and very easily, right? A lot of girls take this to mean that they should bring a man to orgasm the minute he is aroused.
Getting a quick handjob can be fun for guys, but only very occasionally.
A much better way, to make your man's orgasm far more enjoyable is to tease him and slowly build up to his orgasm so that when he finally does cum, he has an incredibly powerful and fulfilling orgasm. So what hand job techniques can you use to to make it more satisfying and fulfilling for him?
If you want to give your man back-arching, toe-curling, screaming orgasms that will keep him sexually obsessed with you, then you can learn these more powerful sex techniques in my private and discreet newsletter. You'll also learn the 5 deadly mistakes you might be making that ruin your sex life and relationship. Get it here.
Outside His Trousers
Before you even take his penis out of his trousers, a great technique is to slowly and gently massage his penis outside his trousers. This is probably the easiest thing you can do to turn him on and arouse him. You just need to use your hand(s) to massage his inner thighs, his testicles and his penis outside his trousers (it's that simple!)
You'll find that you can also use your fingers to slowly 'tickle' his balls and penis. You can use this technique for as little as a minute before you start giving him a handjob or for many hours before you start giving him a handjob (like when you are at a party or club together).
Reach Inside
After a rubbing your man outside his trousers for a while, you will then want to move inside. You will just need to unzip his trousers and pull them down. You may be eager to start giving him a handjob the minute you see his penis, but at this stage, it's still a good idea to keep teasing him and building anticipation. So for between 10 seconds to 2 minutes, start to massage his penis and 'tickle' his balls with your fingers to further build anticipation.
Grab That Shaft!
At this stage you should be able to feel a lot of precum at the tip of your man's penis. This is a good sign that you have been doing everything right and that he is highly aroused. Now you need to actually grab his penis to start giving him a handjob.
Just wrap your hand around his shaft like you would if you were grabbing a handrail. Then just start to move your hand up and down so that you are masturbating his penis. That's all there is to it…although this is just the basic hand job technique. If you have never given a handjob before, you may want to stick with only this technique until your man cums.
Rub The Head
Giving your man a handjob by only concentrating on the shaft is fine. But if you want to give your man a really powerful orgasm, then you need to pay attention to the head of his penis too. The head of your man's penis (also called the glans) is much more sensitive than the rest his shaft or balls.
The best way to stimulate the head of your man's penis with your hand is to rub it. Using your thumb is the easiest way to rub it, while the rest of your hand is gripping his shaft. You can also use the rest of your fingers or your palm if you want.
His Balls
When you first start learning about giving your man a hand job, you will mostly be working his penis (shaft & head). But if you are serious about giving your man a super pleasurable hand job, then you can't forget about concentrating on his balls too. Your man's balls are almost as sensitive as his penis, but more importantly, they provide your man with a different type of stimulation.
The only thing to keep in mind to make sure that you don't apply too much pressure and hurt him!
All you need to do is rub them with your palm and fingers. You will also find that your man likes it when you slowly and gently drag your fingers and nails over them (just make sure not to accidentally cut or nick them!).
Finishing Up
When your man is about to cum, you will be able to tell: he will start breathing a lot faster and will often start to groan. When you hear him doing this, then it's time speed up, right until he cums.
When you can feel him start to cum, his penis will become very sensitive and even sore to touch. This is when you will need to slow down and release practically all the pressure you are applying to his penis so that you are only holding it very lightly.
These 3 techniques are all you need to give your man a basic handjob. To provide maximum pleasure to your man, just alternative between all 3 to see which he enjoys the most. Obviously if you are interested in learning more, then you should check out the FREE Bad Girl's Bible newsletter…or
Watch This: Blow Job Tutorial Video
I put together this in-depth, step-by-step instructional video that will teach you how to make your man sexually addicted to you and only you. It contains a number of oral sex techniques that will give your man full-body, shaking orgasms. If you're interested in learning these techniques to keep your man addicted and deeply devoted to you as well as having a lot more fun in the bedroom, then you may want to check out the video. You can watch it by clicking here.